Wonderful Kamalaya, a re-visit to Koh Samui.

Submitted by PaulRen on Sat, 15/08/2020 - 11:31am
Wonderful, inspiring while calming re-visit to Kamalaya, in Koh Samui. 
Early this month I decided to fly to Koh Samui to take a few days off alone, at a most serene location. I do something like this every year at least once -or more. Spend 8 days at Kamalaya at the south end of this island. BangkokAirways flies there.  Rested at a single suite sea view room at some 70% discount!  Kamalaya, Wellness Sanctuary & Holistic Spa, is one of Thailand's top 5 star rated holistic/health retreats chuck-full of awards besides great reviews, which I can't do justice here.  Presently offereing some incredible discounted stays for Thai's and local expats to enjoy. https://www.kamalaya.com/index.htm     You can see more about the highly qualified owners/founders at this link:  https://www.kamalaya.com/samui-cleansing-resort.htm
"Guests are invited to enter the silence and peace of Kamalaya and in doing so, rediscover the path to their own heart."  John Stewart, Kamalaya Co-founder and Chairman
The history of Kamalaya goes back to around year 2005 when the founding couple John and Karina Stewart (Dr. Karina Stewart, Lic. Ac, DOM) went all out to create an awesome inspiring health and then some serene resort, like no other. They sure did.  Here you can see an original article I did way back in late 2008, when I first visited Kamalaya.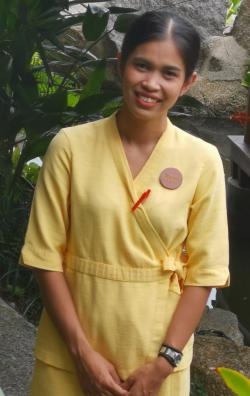 https://thaistocks.com/content/health-and-wealth-we-need-both-and-then-some
The first outside co-investors there, which realized over a million US$, with the sole help of Thaistocks.com, back then so also became one of the original founders.  As continuously mentioned at my 23 year old site: "always realize some profits when times are good", and so he did. Then, it's a funny side story, post being on board for a short while he asked the founding couple John and Karina to turn this majestic place into a, well a nude resort. This was not -and never was- part of this noble-founding couple's plan. Au contraire.  Post which he played the upset and forced the 2 founders to buy him out, or else.
The rest is history as today it's a very majestic/noble place, full of original art work which along with big old rocks (I am told they represent eternity) instill a peace I found as tranquil, happy as inspiring. The co -founder John was a life time art collector and connoisseur which he tastefully and with vision rested all around Kamalaya. The touch and feeling is Buddhist, the atmosphere is international and very upscale, the various/many services offered are at a very high level with good English language. The staff is outstanding and remember all the guests' names, all are dressed in orange, here is Ms. Rava, never to forget. 
Rather then give the list and tell you all of which I did, I let you browse their web site which does more justice and has better pictures, then I could take:
https://www.kamalaya.com/wellness-retreats.htm
There are subtle little signs placed at the lunch/dinner tables which ask guests to kindly consider not using their mobile phones while enjoying the excellent and healthy menu choices which change every day. The service is fast and most courteous.   The whole atmosphere instills a peace and well being which slowly grows on you. There is a weekly program with daily free classes, 2 gyms, 2 pools (one is a grand lap pool) and wonderful steam, infrared sauna, waterfalls around the whole property and more. The panoramic views on the ocean and islands in the distance give contrast beyond just open water. It's a hillside property but you can easily anytime flag down an electric golf cart to take you around but I enjoyed the walking, up and down, to get some extra exercise.  During my stay it was breezy and cloudy all the time so not hot....the weather could not have been better. By November-December some rains come to the gulf of Thailand.
The health clinic, right at the center, is tops where I saw registered nurses, spa director, nutritionists and more, all speaking excellent English. Much of the staff wear masks, but the guest are not required to do. Don't miss a session with guru Rajesh which will listen and then share wisdom, some of which may/will change -in a positive way- your outlook or disposition to life!  Also not to miss are the Tea ceremonies with San Bao, 3 times a week, from 3 to 5 PM, it's a great way to learn all about Oolong tea from Taiwan with a grand master, besides meet some of the high quality guests during.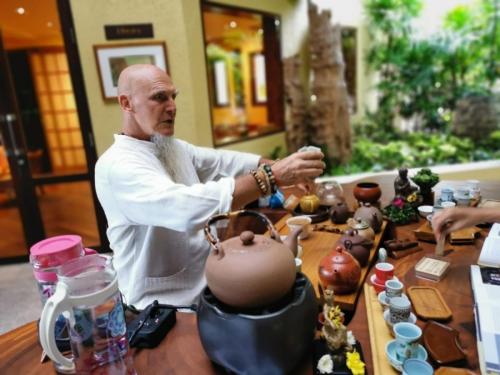 I read some dozen reviews which just about flabbergasted me, as they all give it an outstanding rating, as I would…this I have never seen anywhere else. Post staying there for more then just a few days I much agree.
"Kamalaya is inclusive rather than exclusive. There are no prerequisites. This is a pressure-less environment that honours who you are and where you are right now, and invites you to embrace your greatest dreams and visions for the future.

"While many guests come with a purpose or goal in mind, neither is required. We remain flexible to your needs. We don't insist that you book a program; you can simply come for a relaxing, healthy holiday and enjoy the restorative environment and complimentary offerings like wellness consultation and daily holistic classes.As the days go by, your mind clears, your eyes shine, your skin glows, your vitality increases and your heart opens to the spirit of possibility.

"Words cannot describe the feeling that Kamalaya instills from the moment you arrive to the moment you leave. Every little detail has been considered and if the entire team do not make you feel bliss on their own, then you won't find it anywhere."
Mr. Alexander Griffin
Here and now is the time to bring yourself there for Thai citizens/residents and expats looking for a serene retreat, loose some weight, reconnect, instill peace and more in grand style at a lowest price.  Kamalaya is fully open, not downsized, with some 300 staff dressed in orange which caters to all the guests needs -and beyond. Yet at prices, never offered before, or likely again.  There is no construction anywhere at the site, neither are there barking dogs or cats roaming around. Its a 100% open.
Again, the menu is outstanding with creative tastefully healthy dishes, changed every day and smoothies and many different health juices, all offered at a 45% discount.  If you mention my name when checking in, or say thaistocks.com, you're doing me a favor only & soley because next year I surely want to go there again as a regular paying guest, and with some luck the co-owner John will invite me for lunch -once more.
Best Regards,
Paul A. Renaud.
www.thaistocks.com