About Us


If you wish to contact me please use this email:    paularen@gmail.com
Proprietary research and expertise on Asian Emerging Markets Investing. 
Thaistocks.com is an independent, unbiased,

original

content- driven web publisher with an over 30 year track record.  Here I offer unbiased professional investment

views

focusing on qualitative

investment perspectives -

rather than quantitative analysis from far.
"The publishing of unbiased on- location expert insights regarding all aspects of Thai Stock market investing".
"First and foremost, you have always been a formidable investor!"
Mr. "Mac" Caputo, Managing Director."Morgan Stanley & Co., New York. Tel. (

212) 761-4000

 

"I would of course gladly act as a reference for you in the future!"
Mr. William Browne of Tweedy Browne & Company, New York. Tel. (212) 916-0600

 
---
Who is Thaistocks.com?  
PAUL A. RENAUD  
(Contact: paularen@gmail.com )
International Investment Expert Focused on True Market Inefficiencies Found on the Thai Stock Exchange.  Over 3 decades of proven and here documented through the shown track record.  Paul A. Renaud, Thailand/Asia Investment Specialist since 1989.
PROFESSIONAL PROFILE
A highly motivated, intense, fluent multi-lingual (English,Swiss-German,French,and some Thai) proven international objective investment professional and Thai stock professional with a strong multicultural background besides a long and successful investment career/achievement.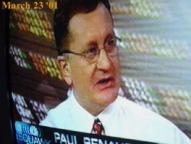 A Swiss citizen which grew up in Switzerland and France. With B.A. in Finance from the University of Wisconsin, USA; trained and worked for Merrill Lynch and 4 years later selected as an experienced broker with Morgan Stanley, Chicago. Often in Phuket yet regularly spend time in Bangkok & Switzerland and travel internationally all my life.  Insightful & intuitive considerate and high integrity, with a documented track record of investment expertise & performance. Deep understanding of Thailand's securities market & culture intelligence. 30+ year experience with deep contacts, know-how through the ups and downs of markets.  Visited over 160 Thai listed companies in person with senior management, over the past 30 years.
 Dependable strengths include the ability to:
 

Relentlessly and objectively

research

to find cutting-edge investments. Long on experience.

 

Effectively

communicate

& perceptive within multicultural environments.

 

Collaboratively

plan

to create the competitive edge. Intelligent, honest and assertive.

 

Enthusiastically

manage

to impact the bottom- line.

 

Command a

large following

since 1997 at this web site.

Skillfully

assess

financial opportunities where others see crisis or lack of understanding -and/or insights.

| | |
| --- | --- |
| | Take advantage where there are market inefficiencies rather then follow the herd. Value investing driven with deep and experienced understanding of specifically the Thai stock market. Globally traveled and long familiarity in SE Asia. |

| | |
| --- | --- |
| | Experienced web site owner/operator with broad general IT knowledge above industry average running Thaistocks.com since 1997. |
PROFESSIONAL EXPERIENCE AND ACHIEVEMENTS
| | | |
| --- | --- | --- |
| Consultant/Thai/Asian Equity Market Specialist | Thaistocks.com | 1988- Present |
Created in April 1997 the leading professional Thai investor web site and investment newsletter through www.thaistocks.com, all around stock market investing in Thailand.  The site generates an average of  some 300 unique hits per day.  Interviewed one-on-one and cultivated relationships with over 200 CEO"s of companies mostly listed on the Thai stock exchange.  Appeared live 6 times on CNBC, TV. Quoted in Forbes magazine, Financial Times, Wall Street Journal, Forbes and others. 
Forbes "Best of the WEB" chose Thaistocks.com for 11 years.  In year 2012 they stopped this section.

Strong emphasis on valuation and seeker of high dividend yields, cultural understanding, company visits and rapport, and bottom-up 'on location' in person analysis. On site proven expertise sought out by internationally well-known analysts and economists.  Very high integrity standard and practice.

Created and here posted and monitored regular model portfolios all along.  Followed by over a thousand members since 1997.  All model portfolios increased substantially during the Asian economic crisis since 1997.  Over 1300 published articles all as shown at thaistocks.com, since April 30 1997.

Replied and helped through over 18,000 e-mails on Thai or Asian market intelligence and investment insights. Various previous member article are free to all registered users to view, the best is kept for contributing members.

Ex-consultant for Tweedy Brown and Company (New York, NY) and the Heartland Fund (Milwaukee, WI) and various very high net worth private individuals.  Strong global, Asian and Thai professional references.
| | | |
| --- | --- | --- |
| Broker & Global Portfolio Manager | Morgan Stanley & Co., Inc.; Chicago, IL | 1985- 1988 |
Top producer in the high net worth individual investor services department during half my tenure at Morgan Stanley, USA.

Managed accounts for very wealthy US and Swiss clients ($5 million and above).  I was the only broker at the time that was trusted with discretionary authority to invest and manage their portfolios without specific instructions by clients.

Trained and managed 2 junior partners, then left Morgan Stanley on excellent terms.
| | | |
| --- | --- | --- |
| Investment Broker | Blunt Ellis & Loewi Inc.; Milwaukee, WI | 1982- 1985 |
Consistently ranked in the top 3 among 12 colleagues in gross commission income.
| | | |
| --- | --- | --- |
| Investment Broker | Merrill Lynch.; Dallas, TX | 1980- 1982 |
Consistently ranked in the top 10% among 150 equal colleagues in gross commission income. Trained with Merrill Lynch, Class 256.
US University Education
 

University of Wisconsin, UWM. Milwaukee WI. Graduate.  

Degree: BBA, Bus. Ad. (Finance, with Honors, Cum Laude, Beta Gama Sigma,  3.4 GPA)

 
 US, European and Asian professional references available on request.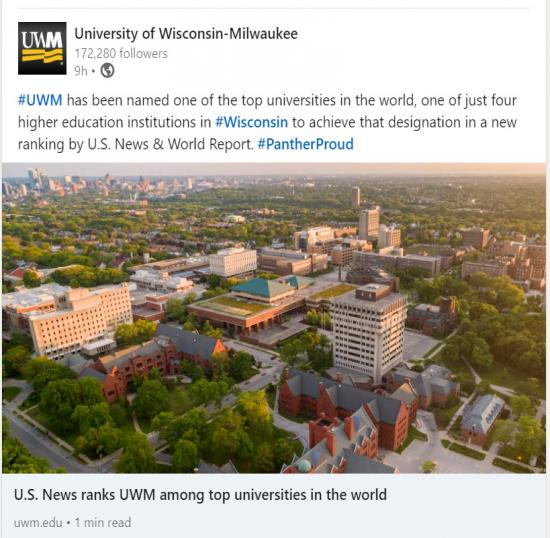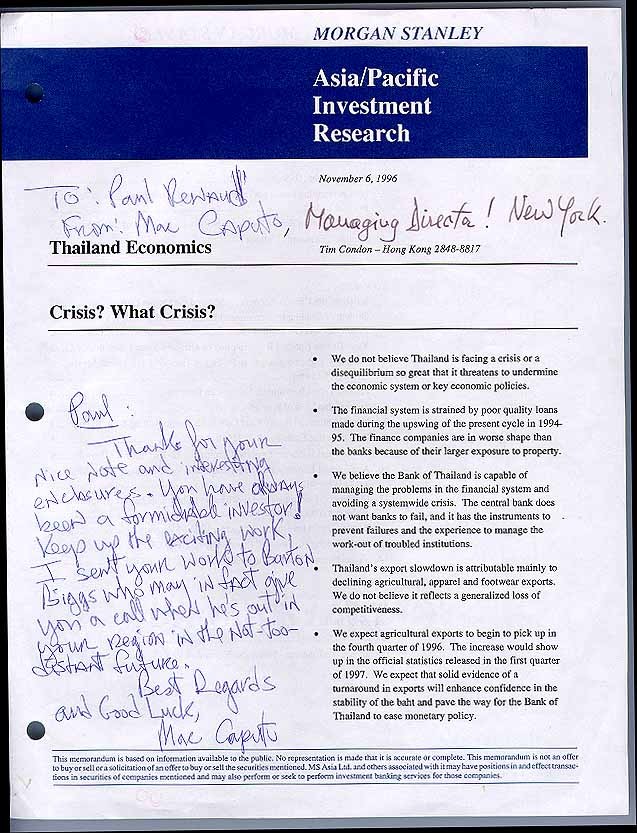 ---
Ms. Pungnoi Kongkaw

Ms. Pungnoi is the lone team member of Thai nationality. She has been with Thaistocks.com since it was founded in April of 1997. Noi is a member of the Thai research office. She completed her B.A. in Information Science from Sukhothai Thammathirat University in 2000. In addition to being a knowledgeable person on the Thai stock market, Pungnoi is responsible for disseminating daily all Thai language broker, stock & news research and Thai language business newspaper reports.