Portfolio Models


Welcome to the Portfolio track record of Thaistocks.com. This as here documented here all along.
Here is a short review.  Revised on January 3, 2022. 
Since 1999, I have regularly published various model portfolios for members only at this web site.  There have been at least 30 all altogether. Below is a link leading members to these unedited updates over the past many years.  All viewers can see these portfolios leading up to recently while only members have access to the latest model portfolio published.
It all began with a diversified stock model which I proposed to Tweedy Brown & Co. of New York, in late 1996. I was back then a consultant for Mr. William Brown and his value Fund. In early July of 1997, I introduced the "Food for Thought" Portfolio. This was a diversified portfolio of most only food export stocks. After the Thai Baht currency devaluation, their share prices soared in local value. Thai Union Frozen Foods (TUF), President Rice (PR) and others were stellar performers after the Baht devaluation. All models presented usually contain 6-15 different stocks and are simply a way to show how one can out-perform the local SET benchmark by looking beyond the obvious and beyond the large cap" s.
On January 2 1999, I introduced then well known "Top 30 Model", also called a "smorgasbord of value".  Here I prepared for hours many financial ratios and earnings on my then favored 30 Thai stocks. Every quarter I then followed-up with a clear performance tabulation. I also mentioned these "Top 30" on CNBC Television 2 times. Yet, no changes at all where made on any of these 30 smaller-cap selections, during the whole 3 1/4 year period. In April 2002, the "Top 30" model was terminated with a 169% gain vs. a meager 3.6% gain for the SET index during this same time period. CNBC TV is the clear witness!
Since that time other models have been regularly shown and tracked, to members. A model portfolio from October 2002 to October 2003 was called "Crash Resistant model" of 14 different selections, where I only made (and so noted) month end changes. The model" s one year return was 157.5% compared to the SET" s 75.45%. The "New Model Portfolio" shown to members only, was introduced on October 7 "03 and was updated regularly until I posted it closed, with a small loss vs. the SET index, a year later.  All as is all fully shown members all along.
On October 27 "04, I then turned "maximum bullish on Ticon" at 6 Baht. This view was amply & enthusiastically communicated with 5 different articles all explaining why by year-end 2004. You can see evidence on this at archive.org:
http://web.archive.org/web/20041110043203//
Ticon traded for several weeks after Oct. 27 2004 between 5.95 and 6.5 Baht per share before rising in December and hitting the price of 12.8 exactly a year later. All on heavy daily trading volume at times averaging some 2-3 millions US Dollars a day.  Since then Ticon has introduced its first 3 tranches of property fund (TFUND) which deputed trading in mid May of "05.  Ticon shares trade with good average daily volume during the year 2006, and I still liked it but turned more cautious at mid year 2007. The stock peaked around 22 as I walked away.  In January of 2017 I turned Ticon bullish again at 16.70.  I here view taking profits when a stock is up 50% from your cost price.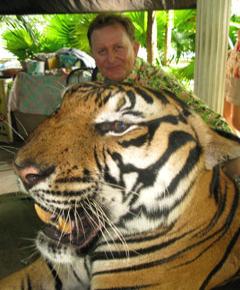 This single stock was/is featured as a key selection in the "model portfolio" during the year 2005 and 2006. Since June 4 2005, other new selections have been introduced to this model.  All as is documented, all along.  
During year 2011, I turned maximum bullish on DEMCO whose stock price since then soared from 3-4 to 18 Baht. At 16 Baht I turned more cautious but viewed owning it again as it corrected substantially. Since early DEMCO has been a laggard while we patiently await its rebound. DEMCO ran into some foundations problems which was amply described and updated to members all along -and then in 2018 I walked away descanted.
During the year 2006 I posted for members only two separate and consecutive models, both shows 30% returns.  I also posted a master list of values in May of "06, this model up as well, despite year 2006 being a -6% one for the SET index.  While the SET benchmark showed a negative return for 2006, we here had another banner +30% year in smaller cap" s, with some members reporting over 100% returns.
Members can see the latest model performance tabulation posted at the link "Portfolio Updates".  .
Year 2007 Poor politics, but good returns for us.
Starting out and during the year 2007, I posted strong-buy views on a number of stocks which all rocketed upwards since. Then towards mid 2007, with the SET nearing 900, I increasingly advocated a take profits view.  After the SET tumbled to below 800 all around the US sub prime credit scandal in last August "07.  I here advocated to get back in, and my long term bullish view and re-instated.  Chosing PTT, TISCO, CPN, and BEC as large cap stocks, as I sensed large cap picks might well outperform in the short run.  Lately, on Halloween-day, with PTT well above 400 -I advocated profit taking on this largest capitalized stock on the SET.
On October 29 2007, I published a new model portfolio with the SET index right around 900, called the "The new pre-election model portfolio". Here I chose 10 different stocks which I think can beat the SET index, along with lower volatility, within a year. Since that combined portfolio is +2% vs. a near -9% return for the SET index during the same time. You can see this portfolio update at this link:  Click here - 

In an alternative portfolio for members published I chose a selection that during the same above stated period showed a +12% return, or many times better then 10 times the SET index, in the same time.
While for many years we showed superior performance, year 2008 was a  -40% decline.  I show the entire record from year after year, from 2000 to end of 2008 with a table, posted in early 2009 for all you to see.  You can access this through below link called "Portfolio updates".   There I show the combined yearly return has averaged around 23%, taking into account the just past horrible year 2008.  Since Nov 15 '08 to Feb 15 '09, there has been a 7.2% recovery.  In 2009,  I posted a superior to SET recovery in my 2 models, this continuing into year 2010 with the super stock selection of DEMCO, on which I turned very bullish in February of 2010.  STPI, PRIN and SGP also featured in my models, all of which did well.  I regularly published 6 month models all along since then.
In early January 2015 I turned more SET cautious and advocated investing in WHA property fund for high income and less market volatility.  Since then my models underperformed the SET index -as smaller cap stocks lagged.  From 2017 to 2019 the market was bearish and I no longer sent out any member renewal notices, but kept publishing.  Then, in early April 2020, at the height of the Covit-19 first outbreak, I turned maximum bullish and stated so at the front page! Since then my stock models substantially outperformed.   In May of 2021 I turned very bullish on TOG (just now at 10.40) at the then price of 5.80. Stay tuned...
Members see all model portfolio"s, the latest one is reserved for members.  95% of our members renew their yearly contribution. 
Members are kept posted for all regular updates and/or changes!
LINK to Portfolio Updates: Click here - 

Best Regards,
Paul Renaud
www.thaistocks.com