FSMART (12.30) is a quality Thai domestic play back on my list.

Submitted by PaulRen on Mon, 19/12/2022 - 2:30pm
FSMART (12.30) is a quality Thai domestic play growth and dividend stock -with a good reputation. Posted at 2:25PM today. Its recent stock price drop is overdone in my view.  I rate it an accumulate buy!  I follow FSMART for some 3 years, visited them in person in the past, wrote it up as a strong buy around 6.05 back then, only to take solid profits when its price soared -not long thereafter.  Here is my retake today -and why I now want to be back:
Upon checking more, I think the recent price decline with FSMART (12.20) is because mostly individual investors suspected the unit growth and profitability of its high end Taobin vending machine may not be as high as their high previous expectations.  I do believe what the company communicated to public was accurate however, but retail investors expected more and extrapolated…and now that reality sets in, investors are adjusting their too high expectation downwards.  Just like it was overdone on the upside when FSMART rose to the high 20's its now exaggerating on the downside, in my view a around 12.30 Baht presently.
Again, worth saying again, just to nail it: individual retail investors overreacted on the upside, now they likely are overreacting on the downside, especially since the overall market has been weak of late.  
Note, there was a tremendous growth in new TaoBin super-vending machine installations or a 149% Q. over Q. growth, nationwide which is impressive.  As of 3 Q.'22 there were 3,572 vending (TaoBin) kiosks as they call them nationwide, up from 1,424 in Q2.  Sales averaging 60 beverages per day, or more than the 50 which was targeted. However, the company noted there may be a seasonal effect?  TaoBin continues to create new menus to meet various needs for every season and there are recent reports the company will exports these high-end vending machines to Malaysia and some other countries?  A robotic barista.  
Take a look here:     เต่าบิน | ตู้กาแฟสดและเครื่องดื่มอัตโนมัติ | Tao Bin | Thailand (tao-bin.com) We can see FSMART hardly believes TaoBin penetration is saturated.  
As the company states in its last mgt. discussion, Nov 11 it hopes to: "Expanding channels and services - Mini ATM 10,000 kiosks in 3years - 20,000 Tao Bins, robotic barista, in 3 years. - New mobile applications."   Its important now to follow any news on so called "min-ATM's" as this will fuel its future growth in that segment.  
Here you can see my original company visit FSMART member write-up:
https://thaistocks.com/content/fsmart-undisputed-number-1-automated-service-platform-operator-thailand      The picture just below shows at my visit in early 2020.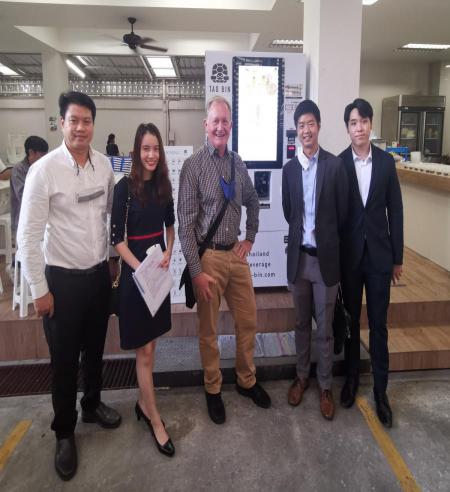 FSMART's  3 Q. was affected some by the bad floods occurring during this Q.  While its 2Q. by still on going covit that time.  Also there was FVD total of 34 mill. one time impairment in 3 Q, this due to the point system which TaoBin allocates whenever a consumer buys a beverage at their impressive vending machines. TFRS15 accounting rule which required FSMART to take a 17.14 mill. one time charge on that. Had this charge not occurred, 3Q profits would have been 20% higher, at 101 mill. vs. the 84 mill. the company reported.
FSMART now owns 26.7% (up from 19.35%) in FVD, Forth Vending Co. which manufactures these TaoBin vending machines, which offer up to 170 different kinds of very high quality/tasting hot/cold beverages!  Hence they can now recognize profits on this through the equity income method from now on.  FORTH Corporation owns 50.7% of FSMART outstanding shares.  (Forth Smart owns 3.4%.)   You can see a broad summary of FSMART here:
https://classic.set.or.th/set/factsheet.do?symbol=FSMART&ssoPageId=3&language=en&country=US
You can download FSMART latest 2021 annual report here:
https://www.boonterm.com/web/ir.php?m=WVRSek5XazE=&gid=ZURJPQ==&lang=WWpSeU5RPT0=
FSmart now teaming-up with biggest Bangkok Bank BBL as was reported on Nov. 25th., so accepting cash deposits at Boonteerm Kiosks to provide convenient services anywhere in Thailand, 24 hours a day with a minimum deposit of 1 Baht.  There are more then 130,0000 location wide kiosks of theirs. This number has been stable/but not growing over the past few years.  BBL new banking agent is significant as it's the countries' biggest bank by far, and adds on to the other 7 already teamed up.   The reduction of physical service points of banks surely provides increased opportunity for FSMART as well over 40% of Thai's, nationwide, do not have a bank account and even less so access to any ATM machines.  Nationwide, minimum wages are bound to increase next year (likely by far, far more than the inflation rate which is now taming) and this will be a net plus for Boonteerm Kiosks.
A recent Finansa broker report (Nov 11 2022) projects very high profit growth next year which make me further believe it's a buy at now oversold 12.2- Baht.  BTW, FSMART high-low stock price over the past 12 months is 28 and 10 Baht.
The Finansa reports shows profits estimate to soar from current year estimate of 494 mill to 866 mill next year and 1,282 mill. in year 2024!  However, I think this is too high as the company earned 247 mill for the first 9 months, vs. 400 mill for all of last year. Finansa report did come out just after their 3 Q earnings release, so one has to wonder a bit how it comes at these high profit estimate figures.  Gross profit margins remain at around 17%, net profit margins at 13%, slightly decreasing from around 16% when I first visited this company.  Current ratio is 0.79, debt to equity ratio is 1.64 and ROE at 29.8%, all very impressive.  I know FSMART has a long term reputable reputation.
Nevertheless, FSMART appears on a high earnings growth prospect for next year and beyond, its core biz. is solid and the TaoBin vending machine very successful. Not least due to more favorable macro elements like taming oil prices and Thai elections coming along with soaring tourist revenues which may however only indirectly benefit this mostly Thai domestic play/stock.  Finansa projects a target price of 21 Baht and yet rates it as a hold at then 16.60, this back on Nov 11 2022.  FSMART has since dropped to 12.20 which makes me believe it's now a buy, again around current low levels.
At the current mkt. price the expected 2022 p/e is at 23-25, yet with a respectable dividend yield of 3.3% which I can see increasing nicely next year.  If they sell back their treasury stock (see just below)  there may even be an extraordinary dividend? 
Last but not least, FSMART's (see their announcement pictured here) on the purchase back of its own shares, completed in early July 2020.  This is called "treasury stock". Here we can see this company bought back 26,858,700 shares from Jan.3, 2020 to July 2 that year, for 164,255 470 mill. Baht, or average cost price of just 6.11 Baht per share!  Hence, FSMART is sitting on a massive 168.9 mill. Baht unrealized one-time gain at present, as the company's shares even post its recent sell off, is around 12.40, or over double compared to FSMART's average cost price, of 6.11.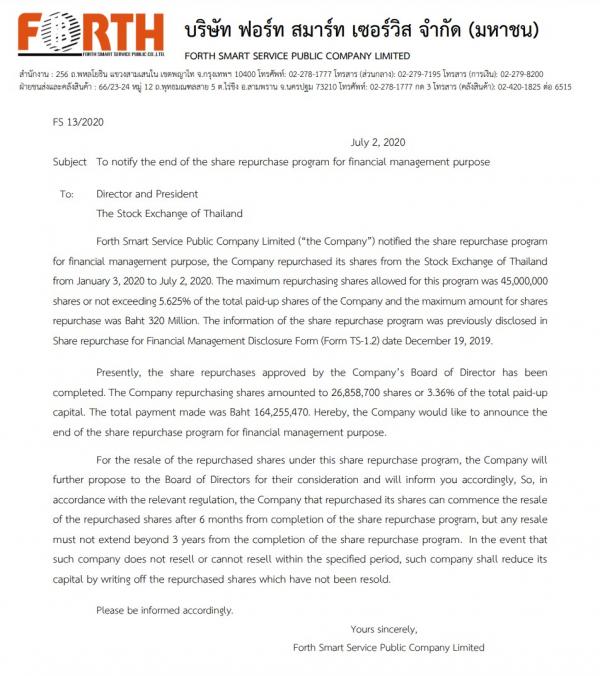 You can see this at this SET link, look for "Treasury stock as of 30 of November 2022".   https://classic.set.or.th/set/companyprofile.do?symbol=FSMART&ssoPageId=4&language=en&country=US
BTW, hre is a link of a Bangkok Post article on TaoBin from mid May 2022.  https://www.bangkokpost.com/business/2310558/vending-machines-the-way-forward
FSMART (12.30) could place these shares, or a portion of it, with an institutional investor and so immediately realize a massive one-time gain. Or, could sell them on the open market, but in this case cannot drive the price down, only by SET/SEC regulation, can offer shares. i.e. place an offer  order not hit the current bid price.  Either way, no doubt the company is so and through their various other financial ratios' in very good financial shape!
I so view FSMART a solid "accumulate buy" around current price 12.3o.  Nobody's know where the bottom is and how long it takes for the current selling to tame down?  "There is no bell ringing at the bottom". But looking at its stock graph we are likely very close now.  I always bow my head to "Mr. Market" -and so not dare to call it…even while I think value investors, always the investor objective here, should start nibbling now -or more. In my view.  
Best Regards,
Paul A. Renaud
www.thaistocks.com
To recap:  Treasury shares in Thailand must by SET/SEC rule either be sold on the open-market, placed to an institution or reduce its capital within 3 years of its purchase.  If sold on the open market, it cannot sell on the bidding price, only offer the shares, at offer price.  So not to manipulate its mkt. price/or drive it down.  So the date is coming up for FSMART by mid 2023 (!), as that marks the 3 years.  If it reduces the capital, its anti-dillutional, so earnings per share go up, as then so less shares outstanding.