Fsmart is the undisputed number 1 automated service platform operator in Thailand.

Submitted by PaulRen on Sun, 29/11/2020 - 12:25pm
FSMART is the undisputed leader of networks of automated and integrated financial services, easy to use, convenient, fast and secure. With automatic dispensers -bringing payment services and much more to millions lower income Thai's, which are mostly well removed from the current economic malaise.  (CV19, Tourism, Hotels, Exports, Politics) 
Last week I had a chance to meet up with the CFO  and the IR person of  FSMART (7.40) in Bangkok.   We spend 2 hours together and it reaffirmed my  positive view I so keep rating it a buy.  FSMART was first here mentioned at 6 Baht a few months ago as I recall -and included in my first model portfolio this year.  I took profit in early June as here documented, only to recently add it back at 6.80 in good part due to its strong CV (corporate governance), strong defensiveness biz. and assured very high dividend yield along with expected growth in earnings going forward.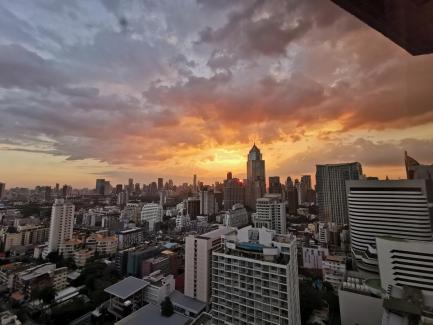 Speaking of which, I can see this company over the next 12 months paying around 0.65 to 0.70 Baht in yearly dividend or about 9.3 to 9.6% based on the current stock price.  FSMART pays dividends semi-annually and my price objective is around 9.40 Baht per share at some point in 2021, + dividends.   What I mean with defensiveness is that its earnings are not cyclical, i.e. do not depend on tourism or exports, politics, nor a grand rebound in the Thai economy as it caters to half the country's population which live in rural Thailand.  "Steady as she goes" could be its motto.
Yet, its calender year 2020 p/e ratio is barely 11  and I think dropping to 10 next year, while yielding steadily the highest dividend yields of any Thai listed companies I know!   For years I have here been obsessed with high dividends here as I expressed many times: low and ever lower interest rates are likely to persist.  I still believe this going into next year.  I think its fair to say/observe that FSMART pays 10 times more in current annual tax favored dividends then money deposited in any Thai Bank.   Its 2 Q. '20 earnings were the bottom as Thailand back then endured the total lockdown due to CV19 which did affect its bottom line as few could move around.  The 3Q it saw a nice recovery back to close record levels achieved in pre-CV19 times (last year). Q4 should show further improvement I sense.
Also, this company has no long term debt besides owns 46 mill. of its own shares (5.6% of total shares outstanding) which it bought back recently, hence FSMART is in an extremely solid financial position.  I expect at least high single digit earnings growth going forward and so in time the dividend yield to move to 10%+ , based on the current stock price.
The other interesting thing is that its accumulated fully depreciated kiosks are likely to double by 2022 and near double again by 2023, so by then saving 59 mill Baht in annual depreciation expenses, or near 10% of current net annual profit.  (As shown in their handout given).  Its net profit margin (NPM) is steady around 16 to 18%  but what is really impressive is its high ROE (always a key ratio to finance geeks as I am) is an impressive and steady 43-45% and this for years already.  The company went IPO in October of 2014 at 2.50 Baht at PAR 0.50, same as now.
The company also operates vending machines to sell health insurance, compulsory motorbike renewals and other forms of insurance, beverages, and gasoline called petrol kiosks, and launched now a superb fresh ground coffee high tech vending machine called Tao Bin (see below).  EV chargers' stations are also coming. On the insurance front it teamed up with TQM, a very successful local insurance company whose stock price soared this year.  CV19 health insurance is no longer popular, as there is no CV19 to speak of in Thailand.
Its core business is currently 130,481 so called "Boonterm Kiosks" which are a form of mini- ATM's and then some. These are expected to increase to 132,000 by this year's end.  Such kiosks service 21 million active subscribers which do 1.5 mill. transactions per day, or just about 10 Bill Baht in Q3 2020, with a target of 1.9 mill. transactions in 4Q.  This averages to 108 mill Baht per day currently. These work/are linked together with 6 commercial banks and 5 mobile operators and expect to add a major 7th bank shortly.   "Fsmart is the undisputed number 1 automated service platform operator in Thailand".  From their presentation, September 2020.   Money transfer transactions are expected to growth going forward due to added banks to its roster of late. Just two other reasons why I think its net profits will grow, along with the annual dividend, over the next couple of years.  This greatly facilitate payments (realize in rural areas there are no bank branches and no ATM machines), e-wallets, govt. payments like electricity bills, transfer to others and more.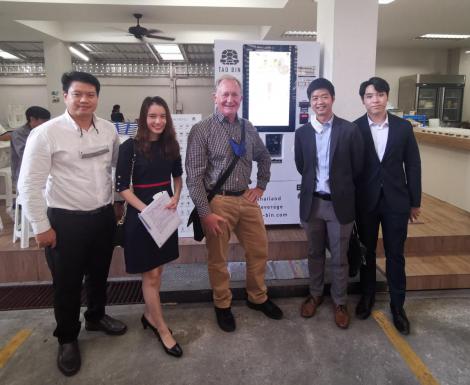 It's a financial platform  and more which bring lots of convenience to millions whom live in rural areas.  Like example, why travel many kilometers by motorbike to pay a debt or bill to somebody, or fill up gas on your motorbike, when you can do it through their Boonterm kiosks, safely and 24 hours a day along with receipt for around 0.35 Baht service charge.  In fact these offers a total of 86 services in 4 languages!  Example, insurance, horoscope, on line games, money transfers, internet packages, bill payments, mobile phone top-up etc.. The Bank of Thailand (BOT) requires a "know your customer rule", which means you insert your Thai ID card and make payments. This is different than some other developing countries which allow anonymous payments through mobile phone money exchange, like example in Africa. Hence the high need for Boonterm kiosks.
Anybody whom has traveled around up/down country and even in Bangkok has readily seen their orange color machines which often are near a shop or adjacent to a 7/11 convenience store.  All of its machines have built in GPS and are internet on-line 24 hour linked.  If the electric cuts or anything goes wrong a message is instantly sent to its service center (FSMART has 400 employees) and instantly alerted.  The company has the ability to give  acredit to any users' mobile telephone number in case there is a need.  Some 30% of these kiosks are in the Northeast, 14% in BKK metropolitan area and 20% in the center, and 12% in the S. of Thailand, as well as all around the country.  In other words, it has a very broad national foot print. 75% of all kiosks are located at Mom-Pop shops and residence places.  But they can be found in temples, gas stations, government offices, department stores, office buildings, convenience stores and more. These share a pre-determined % of the fees charges yet are 100% serviced by Fsmart.  It is believed there is strong long term growth in cashless transactions in Thailand as it still trails other countries.
The kiosks machines itself are manufactured by FORTH, a listed company, which owns 49.5% of FSMART and hence is their largest shareholder. This is good as it eliminates any possibility of transfer pricing conflicts.  ***
FORTH (6.05) just launched a most impressive high tech vending machine which can deliver 50 different kinds of high quality/tasting hot/cold beverages!  First invented in China its now already modified for Thailand and an engineering wonder-baby nursed by its Chairman K. Pongchai.  Not least freshly ground coffee so difficult to find in rural areas. (See picture below of yours truly along with CFO/IR and others whom joined me).  Being a fussy coffee connoisseur myself, I had a cappuccino and must say it was excellent tasting, even compared to a Starbucks, yet at ¼ th price!  I also liked the high quality cup its served in.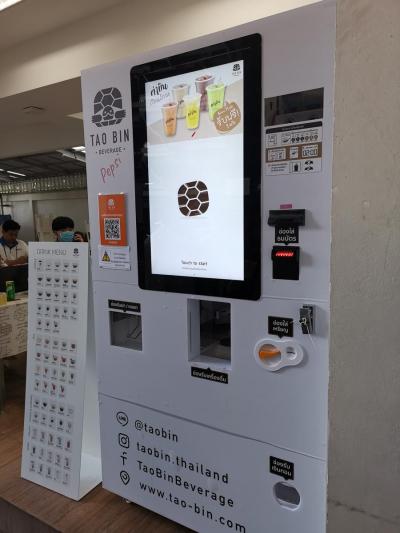 This new beverage vending machine offers the other top-up and money transfer functions kiosks -as well. It has a big flat screen so to choose beverages but where it then switches to view some add's while waiting for your beverage to percale down in seconds.  They are all internet on-line linked and if anything goes wrong, sends an auto message to the service center while giving a credit to one's mobile phone number.  The cost per higher quality cup is a very reasonable 35 Baht, with profit being 10 to 15 Baht, per serving.   Its fully ants, sugar and humidity safe and looking inside a veritable engineering miracle!  FSMART will own 10% but will get the full-service contract.  It is very broadly suitable also for office & various locations where there may not be 24 hours coffee/beverages or in person vendors.  Even in Thailand employee costs are significant while operating hours always limited, hence its believed it has a legitimate future due to zero labor costs -while really great tasting!  The company believes it will have 25,000 machines in place by 2022. 
All in all FSMART is a high quality company, defensive, in financially excellent shape with a very high ROE while I think the highest steady dividend paying listed stock.  A leader in a steadily growing important segment which is not much affected by the current more dire "income-trap"  Thai economy or by tourism/hotels or exports.  Key commodity prices like rubber and palm oil being on the increase is just another plus but not a key determinant either.
Best Regards,
Paul A. Renaud.
www.thaistocks.com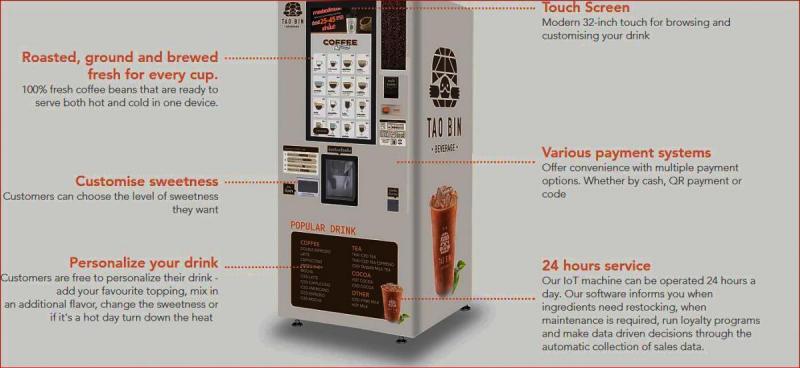 PS.  
On the left of the just above picture of this super high tech vending-payment machine and more, you can see (but not clear) the soo many different beverages it delivers, all of which are above average in testing!   See more at  www.tao-bin.com   or here below: