An update on a previous laggard.

Submitted by PaulRen on Thu, 18/08/2011 - 10:18am
PRIN an old flame which did well  for us -and then turned sour for those which did not take profits as I here viewed to do.
A couple of years ago I got all excited on PRIN (1.51) as the cheapest property stock at the time with seeming changing fortunes and high divididens. It worked.   The stock ran up from below 2 to above 3, so at one point showed us a 50% profit, plus some nice dividends.  Then, talking to my senior contact there made me change my view point and I advocated profit taking albeit at lower prices, as I recall around 2.40 to 2.60 last October.  My view then was increasingly to avoid PRIN and instead switch it into LPN which worked out well and was included in the model portfolio ever since.  Today I also like QH but likely even more so now SIRI (5.40) as my key property pick! (see below).
Currently my updated view on the property sector is more mildly bullish as Thai consumer confidence is stronger now -and this by far is the main driver of that sector.  Because labor costs make up only some 20% of total construction costs in that industry the 300 Baht a day minimum wage proposal will not affect them as much as some fear.  This will induce cost push pricing so existing or nearly finished projects will benefit as prices will just go up and consumers will have to and will accept that.   (Remember that condo project Sugar Palm I favorably mentioned in Phuket in a member article last April?  They just about sold all out since and its very upbeat news there...also unit prices were marked up 5% since.)
Here is an update on  PRIN (1.51)  I was able to get today:
I know some members got stuck with it despite my viewpoint stated back then to walk away from PRIN many months ago.  I just spoke to the company and learned the following:  PRIN just announced a senior management change with CEO and MD K. Chaywat taking over as of September 1.  This is a surprising change and it shows the company is having some internal struggles.  Previously the management was praising the now ex CEO as professional outsiders which will "rebrand the company".   PRIN is reviewing its organizational, fundamental and key strategy and this will take some months to evolve and develop. And so this company remains in transition with problems being addressed but not overcome yet.
The company had some problems with its subcontractor and this is the main reason for the earnings shortfall through lack of title transfers.  I expect with guidance PRIN to show about 2.7 Bill Baht in total revenues this year, down from my already lower number here given earlier in this year which was 3.5 Bill. Clearly things have gone from bad to worse for PRIN this year.  I was guided that for next year the revenues are targeted at only 3 Bill so no much improvements.  This is well below the Bualuang's analyst, again Ms. Pongrat, which still shows a revenue estimates far too high.
The company has a landbank inventory of 1.5 years time which remain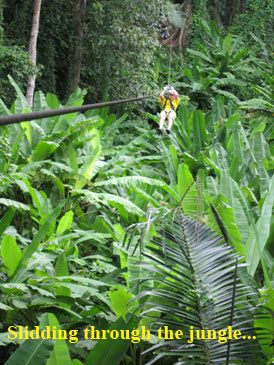 s a bit meager as well.
While the stock price is low at around 1.50 I don't see the earnings turnaround just yet and instead would still view PRIN with an avoid view.  Instead I would consider SIRI (5.45) as a more interesting and timely alternative as was explained to me by the very knowledgeable insider in the property sector. 
Sorry about PRIN for members which decided to just hold on. But it was right to walk away many months ago and I still do not see a meaningful turn, even while the Thai property sector is more buoyant.  I will visit this company again and hope to one day pick it back-up when the time is ripe again -but for now its not the time yet to get re-excited on PRIN as earnings are still decelerating.
With Thai property stocks more then almost any other sector you got to be correct on the cycle, not just the stock. Then ride the better times and get out before the inevitable excess comes, clearly we are not there yet. 
Just like in this picture (yes that's me),  zipping through the jungle without crashing on the other end, that is the key. :)
Best Regards,
Paul A. Renaud.