Univentures on the rise.

Submitted by PaulRen on Wed, 22/02/2012 - 1:56pm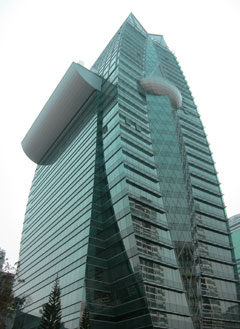 A property related choice and then some, along with strong Thai political connection. 

Univentures Public Company Limited (UV, 2.66) is a property sector listed (since 2006) firm which I wrote up nearly a year ago and which remains on my focus list. While its stock performance since then has been lackluster,  I still like this company as a key choice in the that sector.  Last year was challenging for them due to floods in the 4th Q. in their Zinc Oxide operations, (re-opened again in full on December 15 '11), and so this year looks promising due to core business recovering and the recognition of income on what I think is one of Bangkok's more attractive building at no doubt one of the best/chicest locations in the city, at Ploen Chit. (extension is hotel swimming pool)
For this building see my own picture above and their web site here:
http://www.park-ventures.com/main.html

See UV's web site here:
http://www.univentures.co.th/
And see the full company's description here:
http://www.univentures.co.th/corporate/default.aspx?Id=1
This company is related to the same as the current finance minister K. Kittirat, hence they are very well politically connected. The finance minister in Thailand has made a name of itself, today reaffirmed (!), via a court decision order transferring the remaining 1.14 trillion Baht left over '97 Asian crisis debt to the Bank of Thailand   -and in obtaining court approval, also today, for massive government funding on new flood infrastructure. (300 Bill. Baht if I got all the zero's right). The government opposition has already stated today that it will not appeal this court decision.
I visited this company last June and had a good impression.  I think the key earnings driver for year '12 and '13 is the gradual leasing of their/this new 33 floor building called "Park Ventures". 10,000 sqm is for retail, 27,000 sqm for Office and 25,600 sqm the Okura Prestige Hotel, 246 rooms, to open in April/May.  See the hotel here:
http://www.okura.com/hotels/bangkok/index.html
UV plans to have this building over 40% occupied this year and increasing to 80% by 2014, hence considerably revenue will flow to UV from this alone. The building is reportedly worth 5 Billion Baht.  Seperately, its mid range condo's called "U-Delight" have been selling well as was reported in their just released in their earnings report.
See here:
http://www.set.or.th/set/companynews.do?symbol=UV&language=en&country=US
This company's stock is trading at book value which I know is considerably understated. Today's share traded volume rocketed up which leads me to believe investors/speculators liked the today released earnings report. The company states it pays dividends at "50% of net profits" which were just releases today and considering the flood damage to their Zinc Oxide operations late last year, I think it was respectable and yet leaves room for considerable upside this year.  On their Zinc Oxide, see here:  http://www.univentures.co.th/product/?Id=3
This zinc oxide product is ranked as number one of market shares in term of sales, volume and quality.  The company told me mid last year they will switch the power source to gas from oil and considerable energy savings, and less pollution.
UV has invested 32 percent in the "Excellent Energy International Company Limited" (EEI) with an objective to implement energy saving concepts in Thailand.  Due to the ample of market opportunity, the Company set up Esco Ventures Company Limited (EV) in year 2005 to provide turn-key energy saving scheme for business that concern their inefficiency of energy consumption i.e. EEI and EV jointly provide engineering management and energy conservation consultant services with option of guarantee saving.  (For more detail, visit www.eei.co.th).
Also under "Other business" the company operates:
Forward System Company Limited (FS), a solely distributor of AMANO brand from Japan and CEDA access control from Italy, has been operated in providing access control equipments.  FS has successfully launched the "One Smart Touch" access control products i.e. entrance/exit control system, passenger lift and car park control system equipment.  (For more detail, visit www.forwardsystem.co.th)
While its not clear how much the above 2 new businesses will contribute to earnings this or next year, I am tempted to rate UV as a strong buy as I believe their new Park Venture building will fuel earnings along with the recovering of their zinc oxide businesses, post the flood induced temporary stop last quarter.
Best Regards,

Paul A. Renaud.
www.thaistocks.com