TOG, a high growth/high dividend -besides defensive choice.

Submitted by PaulRen on Wed, 01/03/2023 - 9:51am
TOG, full 2022 year earnings report.  Thai Optical Group is a core stock choice here first written up at 6.2 Baht, some 3 years ago.  
(As here first published to members-only, on 16 Feb 2023 - 4:40pm)
TOG (9.50) late yesterday reported stellar 4 Q. and full 2022 year earnings results.   TOG announced a 0.43 per share interim dividend (XD APRIL 18).  Last year it paid a 0.17 Baht interim dividend in August, hence I can see total dividends for this year 0.63 Baht, or for a yield of 6.6% at the current today higher price of 9.50.   (last years 1st half dividend was 0.35 Baht, so now 0.43, represents a 21+% increase).  TOG now is among the highest dividend paying stocks in Thailand, at the same time a growth stock besides a leading company in a relatively defensive industry.
In various regions around the world, like USA/ AU revenues soared 30-36%, TOG revenues as a whole rocked up +20.8% for year 2022.  Net- earnings for the full year soared 30+% from 0.65 EPS to 0.85 EPS, hence at current prices TOG trades at a 'trailing 22 p/e of barely 11.2 -or far too undemanding, in my humble opinion.  I will spare all the good news here and let you read its full mgt. report at this link:   https://weblink.set.or.th/dat/news/202302/23015429.pdf
Here shown to the left, are the key TOG latest financial ratios, all very impressive: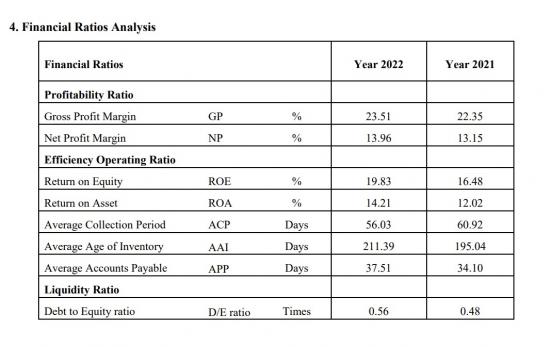 My buy view on TOG (9.50) so firmly remains in tact and glad to have chosen it as the core/key growth and income stock for some time.  As outlined in several articles since 2020.  TOG has held its value despite serious price corrections in many Thai stocks -of late.  TOG is one of the very few stock picks here (highlighted a couple of years ago at 6.20 Baht) where I remain investor-enthused, despite a 50% increase in value + high dividends since, as here mentioned again and again.
Paul A. Renaud.
www.thaistocks.com