STARS Micorelectronics, the company visit.

Submitted by PaulRen on Sun, 04/09/2011 - 1:07pm
---This article was revised and improved on September 18 2011. I also added a couple of pictures. With the stock now at near single digits I remain solidily upbeat on this newer choice.--
SMT is now my favorite choice in the Electronics sector.  STARS Micorelectronics (Thailand).STARS Micorelectronics (Thailand).
SMT  (12.40) stock price sell-off  recently, is an overreaction.  This view was now confirmed based on my visit to Ayuttya. SMT is a very high quality company which should be our favorite in the sector.  More prudent investors may want to accumulate buy these shares as we don't know how long it will be until the bullish sentiment returns here.  A renewed slow down in the Western economies will affect SMT but its not clear at all that this will be significant.  As consumers there keep buying gadgets rather then homes.  And I was told sales of HDD are coming back.
Here I re-affirm my buy view now on SMT if the stock drops more I view as averaging down a good option. This so, after I visited the company for 2 hours last Wednesday.   
A leader with high growth and a good dividend can be expected to continue.
The stock price around 12 now in my view has already discounts the slowdown we have seen at mid year.  This company has all the exciting and high growth IT product mix segments  -and is a leader in what it does.   For example, shortly (starting in Jan '2012) all US cars will have to include tire pressure sensors which so show actual tire pressure in dashboards, SMT is a key producer of such devices.  Road accidents due to low tire pressure is a key problem in auto safety.  This tire pressure sensor is no bigger then a insect fly and the company is the leader in producing them….tens of millions will be produced by next year.  I visited in person SMT in early September.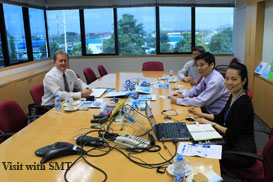 The company has begun mass production of Ultra -high Frequeency RFID Chips or UHF RFID chips which should soon  become new Blue-Ocean Products due to surging worldiwed dmeand, besides high margins. High tech tags have superior advantages are taking off and in time will replace Bar codes.   Smart phone's clear pads remain hot sellers with demand set to double year over year.  These touch screens are used for increasingly other devices as well, like Micro Wave ovens or TV/s.  
Any minimum wage increase to 300 Baht a day should not affect SMT much as they already pay all workers close to this at 275 Baht. Side airbags, high tech gas and in car tire sensors, laser micro projectors through a phone... such clear pads/thouchscreens are all newer products just now taking off to masses, in the current and medium term.  Even if there is a short slowdown, the stock price has overreacted as global demand for their "right" product positioning is impressive.  "H.D.D. demand is bouncing back, I was told and MEMS are the drivers for the 2nd half. TPMS is a high margin product.  It employs 180 engineers.  SMT does made to order or business contract manufacturing, not stack inventory.
The company's D/E is at a very low 0.40 times.  SMT had a rights offering at 16 Baht at 1 new share for each 8 shares held on March 3rd 2011. It plans to enter its own solar project due to perceived synergies.  But since then getting a permit is more difficult in order to qualify for the 6.5 Baht adder tax rebate and so the company is rethinking this I sense. As the stock price is near single levels now SMT, may instead opt to buy back its own shares?  "SMT has board meetings every three months to decide such matters", I was told.
SMT stock price lost half its value, since the 1 Q.,  I am convinced that sell off has already discounted any temporary earnings weakness.  The 2 Q. was weak primarily -as stated in their release- due to the Tsunami in Japan.
A strong Baht benefits the company and if the Chinese currency appreciates more/faster as I tend to believe, this will also benefit them as it will make the company more competitive.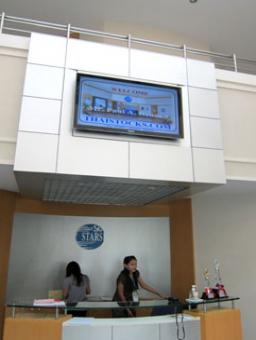 The always more volatile Electronic cycle is shorter and shorter as compared to the past.
But SMT is now trading around a p/e of just 10 or so (very much depending on the second half) and with growth likely resuming next year I think this is too cheap for such a larger cap choice and a leader in what it does globally. Note Morgan Stanley is their second biggest shareholder at 6% -and that there is a rather diffused shareholder group so this stock has plenty of free float!  SMT has 416 mill shares outstanding and is a top "SET 100" company -not a smaller cap stock.  It paid 0.70 Baht in dividend per share over the past 12 months.
Impressive to visit and very professional with an exciting glimpse at the future where one choice in this sector seems warranted!  SMT appears to me more exciting then HANA.
Best Regards,
Paul Renaud.
PS.
Here is what the Tisco analyst had to say in July about smart phone clear pads, which carry high profit margins.  TISCO downgraded SMT to a hold when the stock was trading around 17.  Now at 12 its time to be bullish again, as I see it.
"Smartphone demand remains high
According to Gartner Research, smartphones will continue to grow strongly to 468m units in 2011, representing a 57.7% increase. This was slightly lower than the previous forecast of 500m units. However, growth remains strong. Gartner also forecast that Android will be capture almost half of the smartphone market in 2015. iOS remains second but with a much lower market share of 17%. Research In Motion (RIM or Blackberry – BB) market share will also continue to decline to 11% (see figure 3). Although BB is the major client of  SMT for smartphones, we are believe that the downturn for SMT in the smartphone market will be temporary and could be due for an inventory correction. Moreover, SMT is now approaching more brands to diversify its smartphone base, which could be a factor in better results in 2H11. The outlook for the smartphone market remains bright. A recent survey indicates that consumers are now willing to buy smartphone as their next phones, creating a huge potential market. "