SITHAI (9.05), another core choice for this year.

Submitted by PaulRen on Mon, 07/02/2011 - 8:54am
Srithai Superware PLC (9.05)
This is a 48 year old company (listed on the SET since 1991).  Founded by Mr. Sumit Lertsumitkul on August 1, 1963, to operate as a manufacturer and distributor of household plastic ware.  Today SITHAI employs 4500 people -and a clear leader in what it does.
Sithai address is: 15 Suksawat Rd., Soi 36, Bangpakok, Rasburana, Bangkok 10140    Tel. : 66 2427 0088 Fax : 66 2428 9675  Note their SET listed stock symbol is SITHAI, not SRITHAI. In this review I use the name intermittently.
Familiarize yourself with antoher choice company/investment for this year at their web site:  www.srithaisuperware.com
For some years the charismatic and energetic Chairman and President is Mr. Sanan Angubolkul. (picture) 64 years young.  At the end of year 2009 K. Sanana owned 44,082,351 shares, or 16.27 % of the outstanding. (The same amount as shown as of February 4th 2011 and checking on insider transaction show little activity and not a concern).
The Company has this Vision.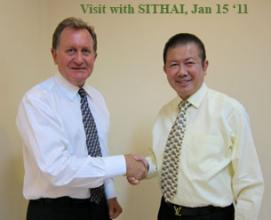 "To be a leading company of Thailand in the manufacture and distribution of plastic products and household products that gain international recognition".  I think they are and then some….as SITHAI has been exporting it to more than 100 countries. I here welcome Thaistocks.com members to learn more about this choice.
Here you can see SITHAI's recent financial highlights:
http://www.set.or.th/set/companyhighlight.do?symbol=SITHAI&language=en&country=US
Year 2008 and '09 were poor economic years globally as well as in Thailand due to the US induced global financial crisis. Now the recovery is in place.
Based on my my visit in person with them. Here at the outset I give my valuation and analysis, further below I did in more on understanding their business:
First -but note foremost- consider that as a value investor I note the low stock price to book value.  SITHAI's latest book value is shown by the SET at 17.36. The true book value may however be closer to 20 Baht, per share, this post the expected 460 mill. payment due from their insurance company because of the fire incident mid last year. (explained just below). 
As comparison, at the end of 2002 SITHAI's book was just below 14. Hence at the current stock price of 9.05, SITHAI is trading at less then half its stated book value as I can tell.  Noteworthy to a value investor but it's the company's earnings prospect this and next year which get me exited.
Valuation and analysis:
For starters, if you take the 119 mill. Baht fire loss provision back-out of its latest (9 month) income statement, profits surged from 51 mill to 143 mill for the first 9 months of 2010, this compared to 2009! (Recall, the insurance will pay SITHAI for the entire fire loss incurred, expected at around 460 mill. Baht/).
After speaking with management in mid January and meeting Mr. Sanan for over an hour, my estimate is for SITHAI is to earn 210 mill Baht in calendar 2010, or 0.78 Baht per share. This should jump to revenues of over 7.4 Bill in 2011, or 300 mill Baht, or say 1.10 Baht per share (EPS).  (PAR value of SITHAI shares is 10 Baht).
At the current stock price of 9.05 its 2011 forward p/e, is a low 8.22. Low I think considering this company is the third largest by market cap of its sector, Home & Office Products.
SITHAI has an up and down history of revenues and profits over the many years past and I never visited this company previously, nor wrote it up at thaistocks.com
After my visit and following SITHAI for a while of recent I think there is now a high probably that revenues and earnings -and likely valuation of their stock- will take a leap forward.  The broker reports I have seen show profit expectation for 2011 of around 240 mill.Baht this year…this is too low. In fact we were guided by the company that its likely to be 300 mill. as I clearly noted.  The dividend yield at currently around 5.5% is likely to rise nicely over the next few years.
The company has relatively low debts and so d/e ratio and good exports and yet heavy on domestic sales all of relatively non-cyclical products, across Thailand, the region/globe. Its market cap (at the current low stock price) is very close to the needed 100 mill, at just now 85 mill US$.  I can see a premium in its sector market p/e of say just 12-15..  So say 13 times 1.10 comes to 14.40 which is my current thinking target price target later this year.
I think the stock price or today around 9.05, has limited downside as it just dropped from 10 to 11, and is well followed by the local press and some brokers. The highest price it reached was around 12.50 last August, when they announce their new India venture. Nothing has changed since then.
Here is the explanation last year on the full insurance reimbursed loss from fire incident mid last year:
"On 15 June 2010, there was an outbreak of fire at the Amata Nakorn Chonburi plant which is a plant producing plastic industrial products.  The fire occurred at a warehouse and in some part of the production area.
"As at 30 June 2010, the Company had assessed and realised a loss from the fire based on its damaged assets' book value and plant renewal expenses totalling Baht 196.27 million in the consolidated and company financial statements for the three and six months period ending 30 June 2010. The fire caused damage to inventory amounting to Baht 150.95 million, plant building amounting to Baht 37.71 million and plant equipment amounting to Baht 1.38 million.  The Company paid for renewal expenses amounting to Baht 6.23 million. However, the Company is in process of surveying and assessing the damages of other machinery, moulds and plant equipment which are excluded from the losses mentioned earlier.
The Company is insured on all risks to its properties with Muang Thai Insurance Public Company Limited.  The insurance policy covers buildings, inventories, and machinery. The Company is currently seeking compensation with the insurance company."  This now happening.
Post the expected 450 mill Baht insurance recovery from the fire at the plant (as explained previously), the company expects to earn 210 million Baht in 2010, or about 0.80 per share. This should jump to 300 mill. Baht, or 1.10 per share, for this year 2011.  Based on the stock price of 9.20 as of Feb 4th, the company is trading at an overly modest 2011 p/e of only 8.40.  The stated dividend policy is not less then 50% of net profit, so I would expect at least a 0.50 dividend on this years operation. This comes to an expected dividend yield of 5.5%.
Dividend Policy is stated as follows:  "Not less than 50% of net profit each year, as shown in the Company's financial statement, and on a condition that the Company has no retained loss".
March 2010:  "Mr Sanan expects sales this year to grow by 18% to 5.65 billion baht, mainly on growth of food and beverage packaging, with a gross margin of 21.3%."  Reflecting back, this statement was far too modest as we now expect near 6.5 bill of revenues for year 2010.
First, lets review some of SITHAI's core investment plans forward:
This company is the world s leading manufacturer or melamine tableware and for some time.  It has set aside an investment budget of 1.1 Billion Baht to expand production capacity in Thailand , Vietnam and India this year. Nearly half of that sum will be borrowed from banks and rest will come from the company's internal cash flow. In my meeting it was stated the company plans to invest 600 mill. in new machinery in '10 and 900 mill. in year '11.
This should propel the companies revenues to increase 18% this year and further next year, with an estimated net profit of 300 million Baht, far higher then show in some recent broker reports.
Currently 60% of SITHAI's revenues come from plastic products, 32% from melamine and the remaining 8% from multi-level marketing, S-Nature brand products.(see further below). About 70% of revenues come from the domestic market and the rest from exports. The company believes China is loosing its competitive edge. The company manages it currency business risk by fixing export prices exchange rate at 28 Baht per US$, this minimizes any FX loss.
Product demand for plastic and melamine products is strong and rising on world markets.  The company capacity to produce beverage packaging (COKE) has increased from 600 mill pieces a year to 2 bill pieces this year. Of this 20% are used in Thailand and 80% exported.
Here are some facts on their new India operation, starting this year:
Entering India: SITHAI will spend Bt250 to 300 mill. Baht on a new melamine ware plant in Mumbai. The factory is expected to start-up 2011 and will be operated by a Thai-Indian JV called Srithai Superware (India) (70% SITHAI; 30% Indian JV partners). The facility will initially have a capacity of 720 tonnes/year  -and serve only the Indian market. SITHAI expects sales of  Bt120m/year.  The company is very upbeat on India as its products show high acceptance/desirability.
CPALL, TUF and MAJOR are key clients of SITHAI:
CPALL has sent many orders for plastic packaging for frozen and chilled food and TUF has sent orders for wonton packaging. Meanwhile, MAJOR has ordered premium products to promote blockbuster Movies, as noted in the previous report,  2011 promises to be a golden year for Thai movie goers.
Here is a short review of their core product lines:
Industrial products: Parts that are used in the assembly of industrial products such as microwave oven, air conditioner,
refrigerator, washing machine, parts for automobiles and motorcycle, fax machine, printer etc.
Battery Cases (22%) - Exterior plastic case, lid and anode & cathode of batteries for cars and motorcycles.
Much of SITHAI's  production is automotive  parts, motorcycle  parts,  automobile  and  motorcycle battery cases.  Expanding sales of cars,  electrical appliances and food-related items will boost demand for the firm's products. At the same time, SITHAI's new  business—SNature—skincare,  healthcare,  haircare,  cosmetic,  etc, is likely  to  grow  further. Management  is  confident  that recognition and acceptance of its Superware brand will help facilitate consumer acceptance and sales of Snature. (see below)
Pallet (9%)- Low-rise rectangular plastic pedestal used for putting on with goods in warehouse. There are openings inside the pallet for forks of forklift trucks to insert for lifting.
Bottle Crate - Plastic crates with inside divided into small sockets for keeping bottles upright such as soft drink, beer, and other drinks, etc Coke is the big customer.
Container - Pails for paint, chemical, lubricant and grease.
Garbage Bin (5%) - Large garbage bin with wheels for sidewalk or public places,
Crate - Fish crate, spare part box, milk-pack crate and crate for containing fruits & vegetables.
Food & Beverage Packaging (10%)
- Plastic package for containing food and beverage, produced with thin-wall injection technology, and printed with "offset" printing technology and labeled with "in-mould" labelling technology. Caps and Preforms for blowing PET bottles.
Super Jewel Box - DVD and CD containers that could prevent product copying with a license-protection.
Premium Products - Products for distribution at no charge for promotional campaign of brand-owners or retail stores. Products are mostly designed by brand owners and printed with their brands.
Plastic based Vehicle Parts (13%)
Engineering Parts (11%)
Other Products - Accessories, decorations, and appliances etc
Broad plastic products are distributed as follows:
Export Sales: 14.7% and Domestic Sales: 85.3%
Competitive Status and Potential
Most plastic product producers focus on just any one particular product line and compete only in their niche markets. For instance, producers of household plastic products will only produce household products and not others.  There are thousands of plastic factories in the country, most of which are relatively small like shop-house factories or household factories with low investment and low technology. Only few plastic factories considered large enough can produce quantity products to serve individuals and businesses globally, as it requires high investment, strictest quality control, and advanced technology.
Additionally, brand name is also important in creating creditability among customers, especially for manufacturing of engineering parts which requires high quality and timeliness of delivery.
However, fluctuation in resin prices resulting in rising resin price coupled with economic recession has caused many small plastic factories to terminate their operations in recent years. (Also in China).
The Group is the clear leader in plastic industry with many of modern machines and application of new technologies used to enhance its production competency continuously. Currently, the Company has two modern factories producing industrial products with total production capacity as high as 45,000 tons per annum. The Company has expertise in producing plastic precision parts such as industrial and vehicle parts, but will not compete with small producers on plastic products for general use in which price competition is strong but quality is low merely to gain more market share.
On contrary, the Company has focused on industrial products of big market size by offering high quality modern products that can serve wide variety of demand of customers. In addition, the Company has developed products continuously to differentiate its product and create value-added on it, and expanded into new product line to consistently increase variety of industrial products.  SITHAI is confident in its competitiveness competency and its business growth prospect in the future.
Size of the Company as Compared to Competitors'
The Company can not compare its size with its competitors because there are thousands of plastic injection factories, medium and small. Therefore, size can be estimated from market shares as follows":  market share, battery cases 70%, industrial parts 60%, material handling products 50-60%.
Sourcing of Products or Services
The Company has two factories producing industrial parts, i.e. Amata Nakorn factory in Chonburi and Bangpoo factory.
Important raw materials are various types of plastic resin which are purchased domestically from dealers of many producers. Hence, there is no problem on raw material quality nor shortages. However, when crude oil price rise, the price of plastic resin also increases. To reduce risk on fluctuation of resin prices, the Company places orders frequently and negotiates for better trade terms with suppliers on occasional basis to get reasonable raw material prices.
In case of rising raw material prices, the Company can pass on rising cost to customers, if there is such an agreement. The Company tries to avoid accepting orders of long-term delivery. Also, their production process does not cause any negative impact to the environment.
Here is some more information to understand SITHAI better:
• Export Markets assure aggressive growth in regional markets, especially in member countries of AFTA so as to gain more market share and profitability to their businesses.
• Domestic Market Develop markets to assure its continual growth including defending and expanding of market share so as to enhance profitability continually by focusing on products of high market growth and returns.
• Product Line Expansion Focus on development of production technology for industrial products, packaging products for food and beverage and other new products in order to have wider coverage for our customers.  Proper food packaging is currently a big and growing topic.
"the Company also has plans to venture into producing and distributing food packaging with one-time sealable property so as to prevent contamination"  Sithai seniors at my visit.
Household products:
Description of Product or Service
Household Products comprise tableware and kitchenware, made of melamine powder, beautifully decorated or printed patterns or cartoons characters. They include dish, bowl, rice bowl, ladle, spoon, cup etc. The factory has received promotional privileges from the Board of Investment, regarding no taxes on imported raw material.
Household products made of melamine powder which is heat resistant up to 100 oC is suitable for producing food container because it is safe for consumer. There are currently not so many producers in the market.
Melamine products of the Company become popular in the markets both domestic and abroad due to its durability and many beautiful designs, and 100% melamine powder has been used for production.
Export markets can be expanded more into neighbouring countries and developed countries. Presently, the Company has been exporting it to more than 100 countries. Markets could be expanded further.
The Company is the leader in the business of melamine products as producer of 100% melamine products, largest in the world.
The Company has modern production technology and has adopted lean manufacturing process in the production of household products. The Company is moving forward to more automation in its production process. It has expanded another production base for household products in Vietnam in order to reduce production cost and increase price competitiveness of the Company.
In 2009 the Company has started establishing a firm market base in India via sales distributors to enhance competitiveness and to satisfy rising demand for their products in India, as noted above.
The Company possesses 6 brands of household products made of melamine, i.e. Superware, Vanda, Flowerware, Melamineware, UNICA and ektra. The Company is the only melamine product distributor who deploys a team force of direct sales.
The Company is biggest in term of market share and production capacity.
"Our production capacity is in excess of 10,000 tons per annum, bigger than those of competitors many times."
The Company produces its household products made of melamine at the factory in Nakorn Rachasrima province, in Suranaree Industrial Estate. Production is focused on made-to-order products as per purchase orders from overseas, and to satisfy demand for certain popular designs in the domestic market.
Major raw material is melamine powder, almost all purchased from domestic producers, i.e. Thai MFC Co., Ltd., Thai K.K. Co., Ltd. and
Panasonic Electric Works (Ayuthaya) Co., Ltd.
These three companies have maintained good relationship with the
SITHAI. There are no problems on quality or shortage of raw material, and the production process causes no environmental impacts.
The Company buys melamine powder from Thai MFC Co., Ltd. more than 70% of total purchase of melamine powder in 2009. Due to being an affiliated company, purchase price is reasonable and quality is standard. Again, there is no shortage problem of raw material.
The Company sells to tens of thousands of customers in domestic and export markets, both consumers and distributors. There is no pending order amounted more than 10% of total revenue.
"Ektra" products are made of plastic or melamine. "It is designed to look modern for metropolitan people to be in line with the popularity for products of good design suitable for modern living". This creates the expansion of upper-class customers, a fast growing market in Asia.
Ektra products are popular quite satisfactorily, especially Modern Catering products that are tableware in modern style. The Company sells these products through direct sales, department stores, leading shops and export market.
"In the global melamine tableware market, everybody knows us as the world's largest melamine producer. But I want our brand to resonate globally with consumers," Mr Sanan.
In these household products the company exports heavily:  Export Sales: 51.3% , Domestic Sales: 48.7%
• Export Market Move towards being a sustainable world leader in melamine products by attaching importance to innovation, development and penetration of markets in various countries in every region.
• Domestic Market Develop markets to assure continual growth, defend and expand the market share as well as enhance stable profitability.
• Production Base Expansion Expand production base to a country of high potential in terms of low production cost and supportiveness of expansion of customer base and new markets, especially India.
Trading Business Line:
Besides Plastic Business Line, Trading Business Line is another revenue generator for the Company. This involves searching/importing of new products of high quality, modern and in-trend, and popular both domestically and internationally to sell here at reasonable prices. Below are products on this Company's shelf.
Domestic Products Bedding, food cooking ware, consumable products such as health-care & beauty-careproducts, supplementary foods and other consumer products, etc.
Distribution Channel Sell directly to consumers and use selling agents as distributors. Moreover, direct sales systems both Single-level Marketing (SLM) and Multi-level Marketing (MLM) have been used and are very popular in Thailand.
Other Business:
Mould-Making Business
The Company does not itself make moulds for sale to outsiders. Mould-making business has been operated by their subsidiaries, namely Srithai Miyagawa Co., Ltd. and Srithai Moulds Co., Ltd. Both companies are leaders in this business.
Their products are supplied to automobile industry, electrical appliance industry and toiletry which require very high precision of injected parts. Srithai Shin-Osaka Co., Ltd., another company in Srithai Group, has been providing mould laminating business. Because mould is used for producing both industrial and household products, mould is important to the plastic business line. Each mould has different feature and efficiency as so if low quality mould is used, the end products can be low quality and sub-standard and it may result in rejections of an entire product line.
Plastic products have been used increasingly every year as manufacturers look toward cost saving by changing raw materials from high cost metal to low cost plastic. They are in automotive industry, electrical appliance industry, food, sanitary ware industry, etc.
Mould is an important part and a start point of plastic injection. There are many mould makers, Thai or foreigners, investing in mould-making businesses, small or big moulds, with initial investment of approximately THB 100 million each.  In addition, with support and personnel development of this industry in the country for advancement and efficiency has resulted in an increase in mould production capacity and no more labor shortage. Production capacity of moulds could fulfil demand in the country.
As the company explains: "only moulds of complicated shape and requiring high production technology are imported. With increasing demand for moulds, plastic product manufacturers could hire mould-makers inside or outside the country by comparing quality, capability and pricing among them before making decision. Hence, mould industry in Thailand has faced fierce competition from foreign makers in term of both pricing and technology."
(c) Competitive Status and Potential
Competency and availability of skilled labors, modern machinery & equipments, and company software have made Srithai Miyagawa Co., Ltd. and Srithai Moulds Co., Ltd. capable in making high precision moulds. They could make and supply moulds to automotive industry, electrical appliance industry, sanitaryware industry, and others as many as 200-300 sets per annum, amounting to THB 200-300 million. In 2009, the two companies got orders from their customers only 60-70% of their production capacity due to economic recession having adverse effect on automotive and electrical appliance industries, including price-cutting competition. However, they tried to cut costs to increase competitiveness and to enable to make more complicated moulds.
Size of the Company as Compared to Competitors:
Srithai Miyagawa Co., Ltd. has invested in tools, machinery and man-power to be able to make moulds of weight 200 kgs. up to 5,000 kgs., whereas Srithai Moulds Co., Ltd. can make large mould of weight up to 10,000 kgs. There are about 50 competitors of the same size with us. However, those competitors have special skill in different areas of products. As a result, lower competition.
(d) Sourcing of Product or Service
Iron ingot is the raw material of mould-making. There are many import agents for iron ingots in Thailand. Hence, competition among those import agents is high. Mould-making companies procure iron ingots easily without shortage of supplies.
(e) Pending Orders
Mould making is time consuming, especially on design, production and testing in its normal production process. As such, if purchase orders come in late of the year, there is a chance that pending jobs will realigned.
However, as of December 31, 2009, Srithai Miyagawa Co., Ltd and Srithai Shin-Osaka Co., Ltd, had pending orders not more than 10% of total revenue. Only Srithai Moulds Co., Ltd. had a pending order from 1 client for the amount over 10% of total revenue. The pending job can be delivered within 3-4 months.
Srithai Packaging Co., Ltd.
(a) Description of Product or Service
Manufacturing corrugated paper boxes printed by offset technique for sale to goods manufacturers (made-toorders):  As they wrote in last years 2009, annual report:
"Despite of the continuous slowdown of economy in many countries, particularly in Europe and the USA, and the continuous appreciation of the Thai Baht against the US Dollar throughout 2009, the Company's export sales of the household products had increased significantly as compared with that of 2008. Export market of household products of the Company had continuously expanded due to the following reasons:
"- The export market of the Company is not concentrated in any group of countries in any continent but diversified to many countries in good balance. In addition, with the expansion to new markets in Africa and Eastern Europe in 2009, the Company had succeeded in market expansion and had exported to more than 100 countries around the World.
"- Presently, consumers have realized the importance of quality and safety of household products which can be observed on enforcing of rules and standard of products to prevent import of household products, made of urea or melamine mixed with urea, which may adversely affect health.  There are strict quality control in many countries requiring quality check before exporting. Thus, it is such a good opportunity of the
Company's household products made of melamine 100%. The Company always attach importance on top quality, designe and brand.
- Gaining confidence of a large and famous household product retailer in Sweden, the Company manufactures and exports household products to the customer's many branches in many countries.
- The Company always co-develops decoration and shapes of products with customers to serve their need and market trend in each country. It differentiates the Company's products from competitors' in the market.
- The Company supports advertising and public relations to promote the Company's brand in many important countries so that the brand become well-known across the world.
- The Company has lessened foreign exchange risk by negotiating with customers in ASEAN countries to sell the products in currencies other than the US Dollar as deemed appropriate such as the Thai Baht or the
Singapore Dollar, etc., including consideration of selling products to customers in Japan in Yen currency. With an effort to push and present quality household products, made of 100% genuine melamine, and to develop the shapes and decoration of the products to fulfill various kinds of demand, together with determination to export to new markets in Eastern Europe, Africa, and South America, the Company is confident that it can export it products to a wider market coverage, leading to sustainable growth of export markets in the future.
" 1.2) Investment in the Republic of India
The Republic of India ("India") is the country of high market potential because it is the country with the second highest number of population after the Republic of China. However, the Company has engaged in distributing household goods to India through only a few local distributors. Therefore, with the good prospect in sales growth, the popularity in the Company's products which are 100% made of melamine, and confidence in the product's quality and safety, the Company is able to compete in India where the major competitors are still a few in numbers and the Company's products can serve as good substitution for the existing houseware products in the market. The Company has plans to expand its market further in India by investing in a new company which will be jointly invested with local partners in
India for the purpose of importing the Company's household goods and distributing them through distributors. Moreover, this is also means to expanding distribution channel, leading the Company to be able to get exposure among different types of customers and cover wider area of markets which will in return create a strong market base for the Company's presence in India.
The new company is called Srithai Superware India Private Limited ("SSI") and is operating at the initial stage of business with INR 50 million in registered capital with the Company holding no less than 70% of the shares. This had led SSI to be one of the Company's subsidiaries. The investment capital injected into SSI by the Company will come from the cash flow from operations.
However, SSI has not been successfully incorporated as a foreign entity and there are many legal frameworks to comply, it was necessary for shareholders to invest first hand in SSI in order to support expense spending of SSI. The Company had already remitted its investment capital proportionate to the ratio of its shareholding in 2009, totaling to INR 7 million or THB 5.2 million.
In addition, the Company also has a long term plan to establish strong production base for production of household products in India in order to expand and meet with demands for products as observable in the Middle-East and South Asian countries. "
Below is of December 2010, which is their latest business for which K. Sanan stated it can be 10% of revenues 2014.
Sales of S Natur are expected to reach 200 million baht this year and will double next year after an aggressive expansion plan next year. Of the total, 20-30 million baht would come from exports. The company expects direct-sales revenue to reach one billion baht, about 10% of Srithai Superware's total sales, by 2014.  This also tells me management is thinking the company will have revenues of 10 bill, by 2014.
Apart from the direct-sales business, Mr Sanan also plans to set up a new Srithai Superware subsidiary called PET Blow Co. Located in the Suk Sawat area, it will produce plastic bottles for Siam Water Co, a drinking water firm. The new facility needs an investment of 30 million baht.  COKE bottles in masses will also be produced.
Morishita Jintan, a 117-year-old Japanese food supplement firm, has stopped its direct-sales business in Thailand last year and transferred all of its direct-sales network to Srithai Superware.  Morishita Jintan already signed an agreement with S Nature, a multi-level direct-sales unit under Srithai, to distribute its Jintan brand food supplements both in Thailand and abroad.
Some 3,000 sales distributors of Jintan Neoplus, a direct-sales unit under ThaiJintan Co, a subsidiary of Morishita Jintan, will be transferred to S Natur, bringing its total distributors to 33,000. Wow.  The Jintan food supplement business to be transferred to S Natur is worth about 10 million baht.
Sanan Angubolkul, the president of Srithai Superware, said local distribution of four Jintan products would begin by the middle of this month before being expanded to overseas markets next year.  While not holding my breath, I am trying one of their energy enhancing daily pellets, from Japan, called "BIFINA", all else is in Japanese and Thai language. (I must say it enhances some on energy and well being, but maybe that's the Yoga?).
Some Final Notes and Key Risks:
Lately SITHAI stated it will revise its investment plan in India by renting a factory instead of investing in a new plant. This will save it 100 million baht.
Srithai Superware Plc, the SET-listed melamine and plastic products manufacturer, said it will spend 1 billion baht on a new melamine production base in India over the next 3-5 years so to reduce business risk and increase sales. Here is some more which was recently released:
President Sanan Angubolkul said the company plans to set up a total of four factories in India over the next 10 years, with an investment of about 250 million baht each. The first factory is expected to be located on a 10-rai plot in Mumbai, instead of New Delhi as planned earlier, with operations to begin in 2011.   Note that India will be Srithai's fourth overseas production base after China, Indonesia and Vietnam. SITHAI so has already long experience manufacturing outside of Thailand.
The new factory will be operated by a Thai-Indian venture called Srithai Superware (India), which was recently set up with initial registered capital of 35 million baht, 70% held by Srithai and the rest by two Indian partners. It plans to increase capital by another 250 million baht.  The 250-million-baht factory will have initial production capacity of 720 tonnes per year and serve the domestic market only. The company expects sales of about 120 million baht per year from the unit. (Not sure if the 250 mill. Is now less, due to first rental alternative?)
"We saw huge market potential in India," said Mr Sanan. "The market demand for Superware products has continuously increased since we started to export our products to India 30 years ago." Mr. Sanan.  One senses that indeed this company's products are in huge demand in India.
Mr Sanan expects to take about three years learning more about the Indian market before setting up a second melamine tableware factory in another part of the country.
Srithai has four Indian sales agents to distribute Superware tableware. It has also used its own direct-sales firm to distribute Ek-Tra, a premium brand, in India. "We were not confident in the growth potential of melamine tableware products over the past few years. But the market trend for the product has been confirmed over the past two years because of stronger international demand from all clients," Mr Sanan said.
Last year, US clients shifted their melamine tableware orders from China to Srithai because of the strong yuan and rising Chinese labour costs, and also because the Thai products had more consistent quality.  China is clearly loosing its competitive edge especially on labor costs.
Locally, Srithai will invest 150 million baht from the end of this year to 2011 to install machinery and moulds for food packaging at its Suk Sawat facility in Bangkok. It expects sales of 200 million baht in the first year of operation of the packaging line. Another 30 million baht will also be spent on a plastic blower machine at the same facility.  I think increasing food packaging (for spoilage and contamination as food is ever more expensive) will be an increasing segment.
Visiting this company is impressive in how clean and well taken care all the grounds/office and factory is. I don't mean fancy gardens or water fall in the parking lot, I mean overall very well maintained buildings etc..with an inside cleanliness I have not seen elsewhere. This company seems very tidy, well run and with good conscious as represented by its well know, charisimatic and out-going Chairman K. Sanana.
"Policy and Energy Conservation Measure
The Company has continuously focused on energy conservation measures both for its factories and offices by setting up various campaigns to raise awareness of all levels of employees continually. In addition to normal energy conservation measures,
the Company is open for employees to share ideas or make suggestions on point of improvement or waste of energy for further remedial actions, as well as to co-launch activities on energy saving so as to get participation from all units within the
organization. Such program is not only good to the Company in terms of cost reduction, but also to the society and the nation as a whole.  In the areas of production, the Company had invested in new machines of high production efficiency and energy saving in order to replace obsolete machines that consume high energy as deemed suitable and necessary, coupled with introduction of new innovations in the production process. Not only these investments helped enhance productivity and reduce consumption of raw materials, the Company also experienced lower energy consumption per product weight."  A company statement.
***
SITHAI's  key perceived risks
--S & A expenses have been on the increase and need to be contained so profits can excel.  Over the past 5 years S & A expenses have increased from 693 mill to expected 1130 for 2010.  The company is acutely aware of this and has convinced us that the gross profit margin is now on the increase due to various measures taken.
--Soaring global oil prices would  create cost pressures on the raw material which SITHAI may be beyond the curve in containing?  I believe only a surge in global oil prices would dent their profit margins significantly.
---Currency. SITHAI earnings would likely benefit some from a falling Baht vs. the US$, so it's a better choice to foreign investors which don't want high Baht currency exposure.  At the same time, if the Baht vs US$ appreciates further (likely especially as China increases theirs) the company could see some margin pressures. But note how profitability has increase last years despite increasing oil and Baht vs. US$ currency.  The key issue in 2011 for SITHAI is, I dare say again,  to contain its S & A expenses and so increasing its net profit margin. Execute in India and be very  conscious on the raw material (which they are and very experienced at that) as it represents 65% of total cost, labor is 10%.  After visiting this company, this last one is not however a primary worry.
Thai Political & elections and global economy.  A fall back to a global recession would not be favourable, nor would a Thai political election standoff.  But this likely will affect them less earnings wise, then say a company say like MAJOR which depends on local advertising income.
I rate SITHAI (9.05) as a solid buy but not a strong buy, only so because this stock may not move up until more see/understand/value what I think I here understand and we never know if this is weeks or months.  Still, by the second half of this year, I can see a nice appreciation in the share price.
Best Regards,
Paul. Renaud.