SAT, the company visit.

Submitted by PaulRen on Mon, 26/02/2007 - 6:12am
February 26 '07. Bangkok time 0:930 AM. (Released to all viewers on April 6th '07).
Somboon Group (SAT, 9.50)
A leading growth stock in a prominent industry. SAT has been sold off to single digit within the past weeks. I think the selling is overdone.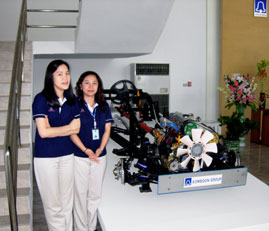 As indicated to members, I went to visit Somboon Group (SAT, 9.50) in mid February and came away with a re-affirmation of my long term buy view opinion. I stated this already in our member lounge when the stock was oversold, around 8 Baht, that I viewed SAT as a candidate to average down, i.e. buy more.
I re-affirmed this view there, shortly after my company visit. I initially wrote positively about SAT some weeks ago when its shares were trading around 12-13 Baht. Today I re-affirm this view and here is my report for you. A short overview and my own conclusions.
SAT was founded in 1963 and has since has been a formidable growth company. While listed on the SET, SAT its considered a smaller cap -and so ignored by most institutional investors- in real life its nothing as such, as I just saw its many factories humming.
SAT is a leading company in the vibrant automotive supply sector -and Thailand today is the 2nd largest automobile/parts producer in the world, right after North America. SAT only supplies to OEM's. The company came public in January of 2005 at the IPO price of 12.90. 2 years later it is trading some 27% lower and appears to be an investment bargain at current levels. SAT revenues' are split 75% for pick-up trucks, 15% for passenger cars, 5% heavy trucks, 5% others. You can see their web site at www.satpcl.co.th For some recent Thai language broker research you can see this link http://www.satpcl.co.th/investor_analyst.html The company is a leading producer of Axles shafts, leaf springs, coil springs, stabilizer bars, disc brakes, drum brakes, exhaust manifold, fly wheels.
The company is maxed out on axle shaft production (but just added some 18% more capacity) yet still has ample room to grow in all the other product lines. The company has some 1700 employees. Raw materials make up 40% of cost, labor only 5% and electricity 6%. Steel is their biggest used raw material but any price rises or decreases are passed on instantly to their customers so this does not affect earnings to any significant degree at all.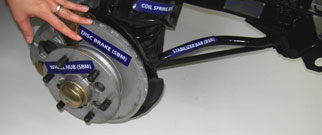 In axle shafts, SAT commands an impressive 90% of the total market share. For the other parts it commands between 35% to 15% of total market share. The leading revenue parts are: Axle shaft which makes up 36% of its revenues, leaf spring 15%, disc drum 12%. Customers are "the whose who" in global dominant automobile and pick-up manufacturers, like: Toyota, Izuzu, Honda, Mitsubishi Motors.
Toyota has in recent years become a prominent customer of SAT, from 10% of revenues 3 years ago to now 23% of total revenues. Mitsubishi has remained their largest customer, at a stable 32% of SAT revenues over the past 3 years.
Honda and Izuzu trail by being the 3rd largest, with around 10% of revenues, each. Total car & pick up truck production in Thailand has increased some 6% in year 2006 (up until Nov '06) as compared to year 2005. Toyota is by far the largest, commanding 40% and Izuzu coming in second at 15%. While domestic car & truck sales in Thailand have been slower last year (and expected this year) it is not a big concern as some 77% of the total production is exported, vs 76% a year ago. Hence exports dominate the car & pick up truck parts sector in Thailand. Exports are growing briskly to Middle East (23% of the total), Asia (22.4% of the total), Australia (22.7%), Europe (15.2%), Africa (5.3%). Pick-up trucks remain the growth market in these countries.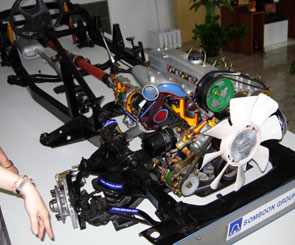 Over the past consecutive 4 quarters SAT has earned 1.41 per share.
The company earned 1.50 per share in year 2005 -and I think SAT can earn very close to this again in year 2006. The 4th quarter earnings have not yet been announced, they will be announced by the end of February. Hence this stock is trading at a low p/e of 6.3, on trailing 2006 earnings. Their net profit margin was a solid 10.9% in the latest quarter, or above its long term trend average.
SAT has an ROI of 24.6% (1st 3 Quarters of 2006) and 44.94% (for year 2005) or an average of 35% over the past 2 years, an impressive number. SAT's Debt to Equity ratio is around 1. Interest expenses are shown at 71 mill Baht for the last quarter vs. 314 million Baht in net profit, after tax. The book value is stated at 6.60. The dividend will probably be around 0.45 Baht per share or some 4.7% yield on the current stock price. SAT has a payout policy of 30% of net profits. This may appear low, as compared to other selections, but the company is set to start an ambitious expansion program (see below).
The founding family owns about 26% of the shares and the Thai Equity fund 10%, foreigners own about 20%. Morgan Stanley is shown as being the biggest foreign shareholders owning some 5.6 mill. shares. Goldman Sachs, HSBC are other prominent shareholders. The company recently bought 83 Rai of land in AMATA CITY, Rayong and considering some 20 more Rai, so to construct a huge new factory. The company is considering a new 1 to 1.5 Bill Baht factory to invest over the next 2 years. If SAT gets this huge contract from Japan it will produce new added value parts, with higher profit margins. T
he contract awarding announcement will come at the end of February (only days away!) and my own take is they will get this contract, which will be a huge benefit to the company. If awarded, the stock should gap open to higher levels. SAT has not told me they would get this contract, other then what it stated publicly. But in my own intuition and perception is they will, of course I could be wrong. We will soon see. More prudent investors might want to await until the announcement is made, which I expect this week.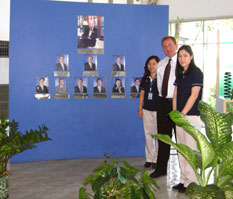 SAT has firmly stated it does not plan a capital increase this year and at the current low price, so the market is wrong to worry about this!
The company's finance director notes it has ample borrowing capacity besides some 800 million in free annual cash flow and will not have to increase its capital to finance this massive expansion which would then see it revenues soar by just about 40%, or more, over the next 2 years. In that case I see SAT earnings per share at some 2.75-3 Baht per share by year 2009, as production will start in late 2008 and will reach 80% of total capacity by 2009. If SAT does not get this large contract it is confident it can & will use this land and new factory to produce other car & pick-up truck parts.
The company feels its revenues can grow 10 to 12% without this large new contract. In that case the stock will sell off a bit, but I think this possible bad news is largely discounted already. My view is that the upside in its stock price is much higher then the potential downside, as this stock is already near its long term low. SAT is a leader in an important industrial Thai success story of auto parts, now the biggest in SE Asia and #2 in the world. This stock appears cheap, with a decent dividend yield above the SET average and potentially a huge earnings growth story over the next 2 years.
I think SAT's stock price so could easily double in value in the medium term of say 1 year. Of course its always wise diversify your stock holdings.
Best Regards to all Members,
Paul A. Renaud.