The Rise of the Rest.

Submitted by PaulRen on Thu, 04/04/2013 - 2:10pm
Retail investors have finally caught on, all on their own.
For years I here wrote how smaller cap. Thais stocks outperform the SET and for years I was told this is just "your own opinion".  I asked brokers and alike why not promote investing for value in smaller stocks to your individual investors?  I was snubbed.  All kinds of answers were given, except the right one. 
Today it was reported in the Bangkok Post Newspaper how SCB SCB Securities (SCBS), Siam Commercial Bank's brokerage arm,  is expanding its private fund products to include one investing in smaller- and mid-cap stocks to widen investment choice for long-term investors.  I say, well it is about time.  This year smaller cap stocks have been the stellar SET performers leading the bull market and by a long shot.  At last the retail investor, with little to no help from their brokers or the press, took the lead and finally got the message all by themselves.  Ask yourselves why it took so long for this to catch on but catching on it did and with a vengeance.

"According to company research, from January 2006 to February 2013 the FTSE SET Small Cap Index saw a return of 183.8%, followed by mid-caps (118.2%) and large-caps (104.8%). The broad SET index yielded 102.1%."  K. Pisithr Niyomtammakij, the SCB fund manager.  Here is that article:
http://www.bangkokpost.com/business/news/343810/scbs-offers-small-and-mid-cap-fundhttp://www.bangkokpost.com/business/news/343810/scbs-offers-small-and-mid-cap-fund
Smaller cap stocks are "less filling and taste great" even while they still remain mostly off the radar screens of the institutional investors and brokers' research alike. There remains very little company research on these stars.  Yes, a few are now overhyped and getting negative attention but the point is, many still are not -and so reasonably valued with higher growth rates.  The press, brokers and even the SET/SEC like to point out a few which have sky rocketed in price on speculative activity of late and so call it speculative.   Fact is this is the exception not the rule, as many remain undervalued in the sense that they trade below the markets' average p/e while yielding higher dividends and have higher long term growth rates. 
In finance we can show that a company which grows twice as fast deserves triple the p/e valuation as compared to the another. Where are the CFA's explaining this to the retail investors? And why did they have to figure this out all by themselves?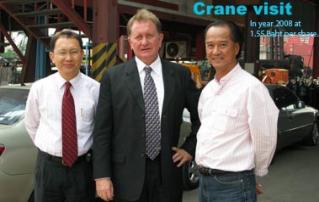 Larger companies and institutions may not like that fact as, at least this year, they have been left behind and mostly underperformed.  Thai retail investors at last have gotten the message and that message is still the fact:  not all of us need the high trading liquidity standards large institutional investors must have.
                                                             A visit to CRANE (now at 8.20) in year 2008, the company's stock price rose 6 fold since, not counting dividends and it has likely more to go.  This is just one of many, many examples.
The SET is not overly expensive. P/E ratio's have an inverse relationship to interest rates. When you consider these persistent low interest rates, the solid Thai economic performance as compared to the stagnant West besides the huge amounts of liquidity in the Banking system, these are not times to be compared to the past. More and more retail investors are participating as for years now the alternatives have been low interest rates paid from the banks/bonds.
The millions of retail savers have woken up and now dominate SET trading which, unlike in the past, are leaning to smaller cap. value investing.  It deserves repeating, while a few are overheated, fact is many smaller cap stocks still trade at reasonable p/e ratios between 12-18.   Bravo to the masses, as you can fool some people some of the time but not all of the people, all of the time.  Call it the rise of the Rest.
Best Regards,
Paul A. Renaud.
www.thaistocks.com