PRIN, the follow up company visit.

Submitted by PaulRen on Wed, 30/06/2010 - 9:21am
PRINSIRI (PRIN 2.02), the update with a continued "strong buy" view.
I think this stock should make a move into the next couple of months as the 2 Q earnings will show continuation of solid earnings progress this year, as well as the company celebrating their 10 year anniversary.  So getting some deserved press coverage besides PRIN's own advertising.
You can see their web site at this link:
www.prinsiri.com    (I hit the translate button and was able to see this in English)
Here you can see my original report on PRIN, as published on February 5th 2010.
/index.php?module=Pagesetter&func=viewpub&tid=1&pid=1006
At this link you can see an investor presentation summary, while it is in Thai language the graphs there give you some insights on their financial performance.
http://prin.listedcompany.com/misc/newsletters/IR_newsletter_03-10_th.pdf\
At his link you can see PRIN's Investor relations page:
http://www.prinsiri.com/investor/index.html
Since my first report the company announced a 0.20 dividend besides a 0.20 stock dividend. Also since their shown book value has increased from 2.83 per share to 3.05, you can see their financial profile at the below SET link.  Remember PRIN has a land bank valued far above the shown book value, so this number is considerably understated.
http://www.set.or.th/set/companyholder.do?symbol=PRIN&language=en&country=US
Also since my original report, the company reported a 150% increase in 1 Q. earnings as compared to 1 Q of 2009.  At 0.12 Baht per share this year, vs. 0.05 Baht per share for the same 1 Q. last year.
PRIN's latest d/e ratio (debt to equity) has dropped a bit further, now standing at 0.87. Hence here is another core model portfolio choice for members with very low debt ratio.  The company has a 1.7 Bill. Bah backlog and 3.6 Bill Baht in new projects for this year. Their focus remains on Bangkok and its surroundings.  PRIN employs 250 people and the gross profit margin is to increase to 25% (net profit margin 10%).
I notice as of  March 3 2010, Morgan Stanley remains the 7th largest shareholder with 30 mill. shares. Since this is such an even number I doubt it's just one of their customers, but perhaps more like one of their funds investments.
After my company visit, I view my previous earnings estimates as too conservative.  Note how the revenues for calendar year 2009 came in at 4.91 Bill., or well above my Feb 5th report which estimated these to be 4.55 Bill. 
Based on this and the 1Q '10, earnings report and after my company visit on June 17, my own profit estimate for this year and next should be increased by at least 10%.  I believe the 2 Q should confirm this upward trend and will be announced by mid August at the latest.
After the 1Q the company announced that pre-sales increased 23% Q. over Q. and 1223% year over year.  Net profit margins slightly decreased to 9.2% from 9.8%.
In February I wrote:
"Net profit for 2009 is expected around 500 mill and 550 mill for this year 2010. The Bualuang analyst projects PRIN to earn 562 mill. this year and jumping to 670 mill.in 2011. My own projections are a bit more tame at 0.56 for this year and 0.65 Earnings per share, for calendar 2011."
Based on the 1 Q and my visit in mid June I am now upping these estimates to 0.58 per share and likely 0.68 Baht per share for next year. Hence at the current market price PRIN is trading at a p/e 3.48 for this year and barely 3 for next year 2011.  I guestimate the year 2010 dividend so to be around 0.25 Baht per share, but do not excpect an interim dividend. This would represent a 12% yield on the current price.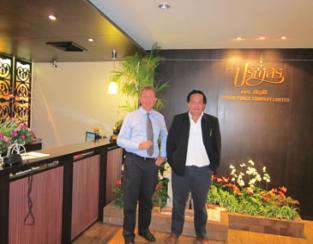 I in mid July the company will be organizing an investor conference, a sort of "big bang", to celebrate their 10 year anniversary.  Look for some press coverage then along with a surprisingly good 2 Q earnings report.
It will be interesting to see if SET investors and many speculators take note of PRIN's continued upward earnings momentum, which seems to me and the Bualuang analyst (I invited along on this visit), "only keeps getting better".
The big story with PRIN is its continuation with a re-branding of its company through experienced outside hired executive talent. As noted PRIN retained some top management talent in the industry to achieve this, not least K.Veera which is a real mogul with vast business experience (see picture).  Not just with new management talent but also advanced management information systems.  A re-branding is so taking place with logos, product nuances, target brands and customer identification intelligence. 
Condo's do remain a key for growth as these have higher profit margins. Thai people in the capital city are increasingly realizing the advantages of living near work, the most important one being time saving in traffic. Stuck in traffic is one of the most unproductive time wasting moments in any persons daily life, anywhere…not just going and coming to work but also in taking children to school and other activities. Living near the modern Sky Train for example enhances the living standard –through time saving- even more then just a pay raise. PRIN is taking advantage of this trend with smart condo's, smart pricing and smart marketing.
For example take a look at this handsome building:
http://www.prinsiri.com/complete_nt/index.html
One of their projects as a case in point is called SMART Condo or City Smart, the first has BOI tax privileges and is 97% complete, it is smart because it saves commuter time and so brings more living appeal..yes, it also commands higher profit margins.
Here are a list of some of their projects which are "ready to move in":
• The Pride Pattaya (The Pride Pattaya).
• The Complete Ratchaprarop (The Complete Rajpharop).
• The pulse Fax Ladprao 44 .
• Parinyada Thepharak .
• Parinyada Light Rama 5 .
• Parinyada Pinklao - Phutthamonthon 2 .
• Home check Prinsiri Khanchanapisek F - Ekachai .
• Prin look light Rama 5 .
• Signature Kanlapaphruek .
Signature Watcharapol .
Some of these projects have seen price increases which makes me confident in increased net profit margins into the 2nd half of this year.
PRIN is leveraging/focusing the company's core competencies and past successes in single detached housing (SDH) and town houses (TH).  As stated they also have intelligent plans on developing new brand positioning and image to expand customer base and so unlock further value.  Better risk management, project execution for condo developments and improved liquidity.  PRIN will increase its land bank through acquisitions of 7-10 new tracks to ensure the pipeline of new projects.  2 plots to be aquired within weeks, 5 to 8 more this year. Medium –small plots are planned for faster project cycle.
While PRIN's sock price has been boring for a while and lately lagging the SET index, my view is it should catch up as this story is only getting better. It so remains my top value pick in the property sector with above average growth and dividend income along with low debt.  Its sort of a turnaround story with a re-branding twist being executed by some of the smartest (outside hired well known executive talent) in the business.
Best Regards,
Paul Renaud.
www.thaistocks.com