PHOL, an introduction.

Submitted by PaulRen on Thu, 07/07/2011 - 6:02am
PHOL DHANYA PUBLIC COMPANY LIMITED
1/11 Moo 3, Lamlukka Rd.,
Ladsawai, Lamlukka,
Pathumthani, Thailand 12150
Tel: (662) 791 0111 EXT.192,128
Fax: (662) 791 0100-2
E-mail: Thamnorachak@pdgth.com
---
PHOL(5.25) a value growth stock in the purified water and broad Safety products.
I recently stated that with a rising interest rate environment you got to favor some growth stocks, not just dividend horses.  Stock screening, say for high dividend choices, do not give the full picture. A lower current dividend but with an expected higher dividend next year and growing beyond, such a portfolio should way outperform other value investor themes. Such as investing only for high current dividends.  My recurrent investor objective has  always been "medium term",  say for 1-3 years. Besides DEMCO (4.30) the favorite, I mentioned some other good alternatives of late!  Today here I want to review one, stock symboled as PHOL.
Phol Dhanya  PHOL (5.25) is over 40 years old. A company I recently warmed-up to and mentioned in our lounge around current levels.  Shortly thereafter the stock price soared with good volume a couple of times to 6 Baht and some more attuned members may have traded it -so to lower ones' average cost price. (A value enhancer technique on accumulate buy).
On the current re-correction, back to the price I fist mentioned I here, today re-state by strong buy view. 
PHOL went public on December 7th at 3.60 Baht per share, 135 mill. shares were issued. The family insiders own a large portion of the stocks (+45%). I enjoyed meeting K. Chavalit W. and thinks he is a smart/wise executive which can lead this company to a much higher level.  PHOL is a key growth stock selection view here, to any diversified individual value investor portfolio.
The recent past new undertakings at PHOL-and now very likely high growth for the next couple of years in the green related industry: purifiying water.  This stock trades well since IPO late last year and paid a 0.10 Baht dividend on April 28  on top of a 0.15 dividend on January 14 '11.  The recent dividend yield then on the 5.25 Baht stock price is 4.7%. I think its dividend yield for this year will remain solid and growing beyond.
The company in the 1Q. earned 33% of what it earned for all last year and after visiting with the K. Chavalit  I think the momentum seems assured. But note earnings per share (EPS) will be diluted some because the firms IPO late last year.  Here you can see some of their PHOL financial highlights and other pertinent information/links there.
http://www.set.or.th/set/companyhighlight.do?symbol=PHOL&language=en&country=US
The company's web site and business at this link:
http://www.pdgth.com/web/index.html
The company's long history here:
http://www.pdgth.com/web/history.html
PHOL core business is in the Occupation Health, Safety and Work Environment Products, itself surely a growth business.  But the new real escalation driver are a host of top notch Water purification systems.  Thailand has a huge untapped need in this and my understanding is that PHOL is one company at the forefront. Some of the machines we saw had the GE logo on it and GE is working together with PHOL on some of their products parts.  PHOL makes some components for GE.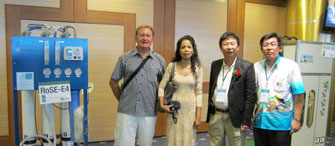 The company is on a road show just now through the South showing its "state of the art" new water desalination and purification water systems. Krabi is their next stop.
K Chavalit Wangthamrong is present at these presentation, but don't expect any of the local brokers to tell you about it.  These mostly Thai language presentations should be of interest to any serious investor in this company, there was one English talk in the morning which I missed. I knew about this upcoming event -up on the local news; so canceled everything here on July 7, 2011.  After checking more on PHOL to date, I spend a good part of yesterday afternoon visiting the exhibition in Phuket town and with K. Chavalit some engineers and a prominent top notch University professor in the Water treatment and purification field.
Here is the gist of that visit. While K.Chavalit would not give me a revenue target for next year he said that the core safety & security business grows about 15% a year, depending on the economy -hence its safe to say this will continue or even better for now.  As there are new safety products away from just the ones, one wears. What I then was told, is what got me going:   Their new water desalination and purification water systems (with GE components and making parts for them) is a pure growth driver to due being available now among the best on the market here.  "Water purification and salt removal systems etc.. will growth from 10% of our revenues this year, to 20% of rev. next year, 30% the following and make up 50% of revenues in 4-5 years".  This is on top of their core business now, which itself is a double digit grower.
Net profit margins are very similar in both of these busineses so that is not an issue. Some time the company will not sell a system (price range are 1 to 5 mill. Baht), instead charge a flat pure water rate, rater then sell the machine. He spoke about a 5 year pay back period and that clean water (salt to fresh) water can be produced at 30 Baht per cubicmeter…so rather reasonable or even most cost advantages to other methods, say especially compared to water transportation trucking cost. If 2% Salt in the water is tolerated then the cost, depending on volume of usage of course, drops way down.
No need doing allot of math here but you can see PHOL revenues and earnings are likely to continue nicely for some years in a growth industry which is part of the solution, not the problem.
More and more shopping centers, housing developments, factories…not just hospitals hotels and tourist industries are their customers.  Clean water is a growth business and PHOL is the local leader.  The wise professor explained in excellent English to me that the desalination process costs have dropped about in half over the past 20 years and about 1/3 on the electrical usage, the machine I saw was 3 phase, 380 Volt. This is primarily due to improvements which also use lower high pressure needed to remove the salt.  
You can see their water treatment web site here:
http://www.pd-environment.com/
This link is in mostly in Thai language, as their customers are all Thailand based, PHOL does not export.  The company seems very connected with various partners and associates all across the country and in their respective fields, so to have a broad reach around the country with agents and all, not just focused in the capital!
Water purification, like green energy, is a huge growth business as it also allows enterprises to recap and recirculation of already used water.  PHOL is at the forefront of this with explosive growth along their core business which is a steady & stable grower and like to keep being so as Thailand remains behind in factor safety wear both for workers to wear -and otherwise. The company ships its products with tr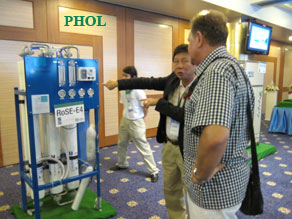 ucks to 5000 different clients it carries 40 brands and  over 3000 items.
Her is the key, it has no factories instead assembles its water machines with proprietary technology in low cost warehouses and imports from overseas its core safety products where the stronger Baht is if anything a positive. Its large and broad inventory gives it competitive advantages. I think PHOL is the leader in this and set so to be in the water purification/ desalination as well.  Hence a growth stock with likely good dividends, low debt and a leader in what in a desirable business.
Roughly expecting 0.45 of EPS profit this year, and growing to 0.60 next year, I expect the current p/e is so around 11.6, dropping to less then 9 for next year.  Along that it usually trades in the many millions per day and likely to repeat the same yearly dividend of last year, and likely hood on growing beyond that.  
Of course as always I welcome any feedback or discussion here or in our member forum.  Always diversify.
Best Regards,
Paul Renaud.