Our Notes on the Thai Healthcare Industry


Our notes on the Thai Health Care Industry.
An upbeat review on the Thai Health Care industry. Thailand's Tattler visits Thaistocks.com
Here we share some thoughts on this upcoming industry with the hope that in the near future BH will soon trade at reasonable valuations for us to like this stock. We also use this article here to share with members Thailand's Tattler write up, who came calling on us last month.
The Healthcare Industry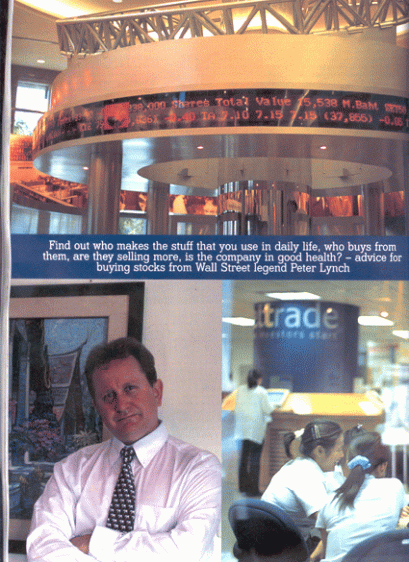 Thailand"s private healthcare industry is an appealing area for investors who are looking for groups of stocks that have underperformed in the past and are now set to rebound with
Thailand"s strong economy. There are 436 private hospitals in the country compared to 972 public hospitals. Some of the companies that own private hospitals trade on the SET index. The private healthcare industry was hit extremely hard by the Asian crisis and its aftermath. Eighty-one private hospitals went bankrupt between 1998 and 2001. The industry is starting to rebound as it is benefiting from
Thailand"s strong economic growth. For example, the industry leader, Bumrungrad Hospital (BH) is set to resume trading soon after a 3 year absence from the SET due to financial difficulties.
The industry is driven by both domestic and foreign demand. Domestic spending on health care and social services in
Thailand has a 10-year compounded annual growth rate of 8.1%. While the size of
Thailand"s health care industry may be small compared to other Asian countries, its health expenditures as a percentage of GDP is the highest in the ASEAN region.
Perhaps, what is more interesting is the foreign patients that use
Thailand"s private hospitals.
Thailand is quickly gaining an international reputation as a high-quality and inexpensive destination for health tourists" to visit and get complicated medical procedures performed.

Thailand"s private hospitals have a huge cost advantage over hospitals in other countries. Compared to
Thailand, medical costs are triple in
Singapore and
Hong Kong, quadruple in
Europe, and eight times more expensive in the
United States. Private Thai hospitals have targeted these geographic markets by setting up representative offices abroad and offering high quality medical services similar to the services provided in developed nations. This is an exciting future growth industry that has been overlooked by investors the past couple of years due to its struggle to overcome the effects of the Asian crisis.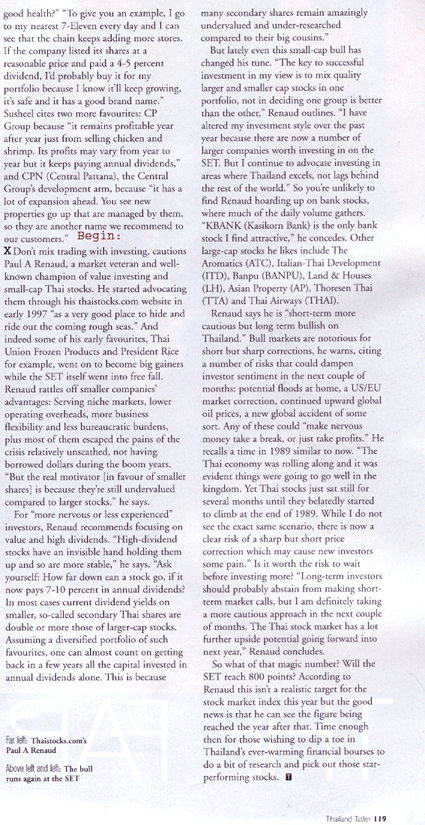 Bumungrad
Hospital
Bumungrad Hospital (BH) operates a 554 bed hospital in
Bangkok with over 500 physicians. The hospital is regarded as one of the most technologically advanced hospitals in the ASEAN region. The company is about to start trading again after a 3 year suspension from the SET due to financial difficulties.
Bumungrad"s revenue in the second half of 2003 was over two billion baht, with earnings of over 300 milion baht. In 2002, BH had earnings before taxes of 554m baht on sales of 3.6 billion baht. The company has averaged 20% sales growth in each of the past three years and has maintained a steady gross margin at 37%. BH is the largest private healthcare company in terms of revenue. Projected 2003 revenues are 4.1 billion baht, with the nearest competitor being Phyathai with projected revenues at 2.8 billion baht. Bualuang Securities is predicting earnings before taxes growth of 35% in 2003, 20% in 2004, and 18% in 2005 for BH.
Bangkok Bank has just sold 42 million shares of BH at a price of 25 baht through a private placement. This has reduced the bank"s fully-diluted ownership from 67% to 42%. Bangkok Bank was forced by the Bank of Thailand to reduce its ownership due to a new law that all commercial banks must gradually reduce their ownership in non-core companies which were derived from debt restructurings. Eventually, BBL will be forced to reduce its ownership to below 10%.
Currently, 60% of BH"s revenues come from Thai nationals, with the remaining 40% coming from international patients. Of the international patients, 60% are resident expatriates and 40% are health tourists" who come from abroad. Surprisingly enough, Bangladeshi patients make up the largest health tourist" geographic segment for BH. In the future, BH is expecting to see a steady rise in the number of Middle Eastern patients, as they migrate over from
Europe to
Thailand for their medical procedures.
Bumungrad plans to use most of its current profits to reduce its debt. Total debt-load is expected to decrease to 1.4 billion baht by 2004, down 25% from its 2002 levels. The company has stated that it plans to implement a 50% dividend payout ratio beginning in 2004 (estimated dividend would be 1.6 baht per share). Based on the recent private placement at 25 baht, this would equate to an attractive 6.4% dividend yield.
BH represents a very interesting investment alternative. When it finally resumes trading it will be in the position of industry leader and it will have promising growth prospects. While BH is not having an IPO, the atmosphere surrounding the resumption of trading could be similar to recent IPOs where investors bid up prices to get a piece of the company. A good example is TK, an industry leader in its own field of motorcycle leasing, which opened up 82% higher than its IPO price. Bualang Securities reported on October 9th that the 42 million share offering by
Bangkok Bank was oversubscribed by ten times. BH closed at 4.19bt three years ago when it was close to bankruptcy. Analysts are expecting it to open in the 26bt range when it resumes trading shortly, but it does look like there will be some excess demand for the stock when it opens.
Nathan Szabo
Thaistocks.com
Past performance is no guarantee of future results. This publication contains the current opinions of the author and does not represent a recommendation of any particular security, strategy or investment product. Such opinions are subject to change without notice. This publication is distributed for educational purposes only and should not be considered as investment advice or an offer of any security for sale. Information contained herein has been obtained from sources believed reliable, but not guaranteed. No part of this publication may be reproduced in any form, or referred to in any other publication, without express written permission.