MAJOR (12.60) my major pick for 2011.

Submitted by PaulRen on Mon, 17/01/2011 - 2:53am
MAJOR CINEPLEX GROUP.   MAJOR (12.60).  Media & Publishing
http://corporate.majorcineplex.com/TH/main.php
Major Cineplex Group Plc (MAJOR) is Thailand's leading/dominant Lifestyle Entertainment Company with core business in cinema, bowling, karaoke, ice skating rink, retails space, film distribution and advertising media.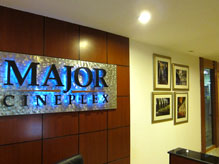 To summarize, there are two key positives going forward for MAJOR, this is what will fuel earnings this year -and likely beyond:
     1)   A very strong movie line-up into 2011, both from Thai and Hollywood films. Year 2011 will likely be called the "golden year of blockbuster films".  Also average ticket prices will likely to be boosted through MAJOR's dynamic pricing along with 3D and digital movies which will command higher admission tickets. While Hollywood movies are slow during the seasonal 1 Q,,  the Thai movie line-up is very strong during this same time.
    2)   SIAM Future Life style Mall will open on 11.11.'11.  This is a gigantic new 300,000 sqm2, 300 RAI mall, at an excellent location on the outer wing road, 6 KM from the BKK airport. The EU based famous IKEA will have its first store there.  Today IKEA employs over 135,000 people in 43 countries, now about to start up in Thailand you see this here:  http://www.ikea.co.th/en/about-ikea/#CP  
This new Mega Ban-Na center is already 70% pre-leased. MAJOR is the single largest shareholder with a 23% stake in listed Siam Future (SF) and already invested 150 mill. Baht into this shopping center which will see SF own retail space double from 300,000 to 600,00 sqm., by the 1st Q. of 2012.  SF is a SET listed company.   http://www.siamfuture.com   MAJOR will operate 15 screens in this new mall, 30 lanes of bowling and one Ice skating ring.  Odd how none of this is reported in the 3 Thai broker reports I have seen on MAJOR.
MAJOR which as around 2800 employees (include temporary staff) commands by far the majority market share in what it does, at 80%.   Charismatic and insightful Mr.Vicha Poolvaraluck is the majority shareholder with a stake of 36.72%. Checking on insider transactions I do not see anything of interest there.
MAJOR operates 370 screens and just over 90,000 seats of movie theaters throughout Thailand. These numbers are up about 5% from the previous year which shows the momentum continues, even as the past 2 years were plagued by the severe global recession and Thai political mess. MAJOR since March 2008 also owns a stake in a successful venture in India which is operating bowling lanes there and expanding quickly. Due to the very transparent partner, a stock exchange listed Indian company and excellent relationship MAJOR plans to double its ownership.
Turning walls into advertising. MAJOR has as clients very high profile, high-end advertisers like NOKIA and COKE, which show ad's and lease space, yes even on their walls exposed to high traffic viewers in its lobby areas.  Some 30 million customers are drawn into the Cineplexes around the country every year. Unlike movie theaters in other countries, MAJOR shows paid advertising at the beginning of each movie, 2-3 small 90 second story ad's which the Thai people don't mind as they are entertaining.
Thailand is a strong movie culture but still far from saturated when looking/comparing at screens per population, as to other countries. The company effectively chased out all the foreign competition years ago when it launched high-end cinema auditoriums, through lavish ambience and neo-gothic movie theaters we whom live here all have admired. Some of the movie theaters, say at Paragon Shopping center at the center of Bangkok, are among the plushest anywhere in the world -even as compared to Paris' elegant Champs Elysee.
Bowling/karaoke is a socializing feeder into the movies. These hip and cool alleys play the hippest of music, have cat walk type carpets into the entry along the lanes and allow people to have fun, meet others, flirt and socialize before sitting quiet through the movie show. Its all about that as much as throwing the bowling ball down the lane -or singing a song.  MAJOR owns/operates around 480 bowling lanes and 358 Karaoke rooms. In India bowling is very popular hence their expansion plans there.
The company operates stand alone theaters, shopping mall (theaters) which is full on weekends -and life style malls (theaters) which is about allot more then just shopping. Major's customers are not only interested in movie entertainment but also desire to consume other lifestyles entertainment services offer the by the company. The Thai culture is entrenched in such glamour activities and events, as any visitor here can attest. (This is another reason why I like WORKPOINT 12.50, which I also visited last week and retain my buy view.)
It turns its lobby walls into advertising and through the dynamic pricing model has seen margins per ticket sale unevenly increase over the past few years.  Average ticket price (ATP) has increased 10% recently.  For example, half price tickets on Wednesdays (which is the lowest movie attendance day), has had a huge positive impact. Increasing ticket prices on weekends has also been well accepted by movie goers.
"MAJOR has on average a payback period under 3-4 years and an internal rate of return of 5-20%"  "  From their 2009 Annual report, page 27
Bualuang Securities which likes MAJOR as well and has a price target of 21 Baht per share, recently wrote the following regarding its recent performance:
"The robust rise in 3Q10 profit was attributable to: 1) record high ticket sales and concession revenue, 2) fatter GMs for ticket sales, concessions, bowling and DVD/VCD distribution, 3) a healthy recovery in onscreen ad income, 4) well controlled SG&A and 5) stronger equity income from affiliates. Ticket sales hit a record high of Bt871m, up 34% both YoY and QoQ. The record high concession revenue posted a jump of 26% YoY and 30% YoY. GM for ticket sales expanded to 19% from 12% in 3Q09.  Onscreen ad revenue posted a robust rise of 36% YoY. The SG&A/sales ratio declined from 26% in 3Q09 to 21% in 3Q10. The average ticket price (ATP) rose 3% QoQ to Bt133."
Year 2008 was the beginning of the global financial crisis which then dragged earnings down in 2009, also due to last May's political uprising which resulted in many advertisers outright cancelling.  Realize advertising service revenues enjoy a very hefty profit margin of 80 to 90%.  However due to the strong movie line-up in the 3Q '10 revenues and earnings roared back. 
You can see MAJOR's financial highlights at this link:  http://www.set.or.th/set/companyhighlight.do?symbol=MAJOR&language=en&country=US
The 4th Q. '10, saw softer ticket sales only due to a weak movie line-up and some effect due to the severe flooding.  However the bottom line for the 4th quarter will be boosted by a sale of "Suzuiki Avenue" to MAJOR's 33% owned Property Fund (called MJLF), where it will book some 134 million Baht in extraordinary profit. 
In the standalone Cineplex, Major owns/operates retail space rental and service businesses to compliment the lifestyle entertainment model. It has so been able to attract many leading international chains as well as newly merging local brands. The latest figures I saw shows it rents over 166 shops occupying 44,000 sqm of retail space, at an average of 83% occupancy rate.(2009). The company has an astute retail rent arrangement, splitting longer term with shorter term tenants. Longer term tenants pay MAJOR substantial up front "key money" so to secure the long term lease.
MAJOR's stock price in mid 2007 traded around 18 to 20 Baht per share, at a p/e of around 20 with a dividend yield of barely 4%.  Its 5-year historical average p/e is close to 17 but this was during more bearish SET times, where the overall SET p/e was lower.  As a medium cap with good trading volume it is an "institutional darling". Rightly so, as MAJOR is considered as defensive and a pure play around the rising Thai consumer. This along with low risk regarding currency & oil prices fluctuations, exports & commodity changeability -and even low competition. as MAJOR is  the clear market leader.  The company seems very well managed by passionate and talented professionals. Today MAJOR's trailing p/e is 15.7 (I expect EPS of 0.80 Baht per share for '10) and the dividend yield should be above 5.5%.  
Major has a recent dividend payout ratio of 85-90%.  The company has a practice to pay dividends twice a year.
As comparison:  the average p/e of the whole SET at the end of 2010 is shown at 15.4, with an average dividend yield at 3%. The average p/e in the Media & Publishing sector where MAJOR is listed, is right around 20 with an average dividend yield there of 4.6%. Note, the average p/e of the commerce sector (similar) is a high 23.  And the price to book ratio for this M & P sector, is 4.5, vs. only 2.1 for MAJOR.  The average price to book for the commerce sector is 5.5. MAJOR is the 3rd largest by market cap, in its sector of 4 companies.
What happened, why did MAJOR' s p/e languish of late?  As in the meantime the SET index roared above 1000 and interest rates remain rather very low. Again we ask why the p/e retrenchment?  After my visit I am convinced this company is as well managed as ever before and going forward has a higher expected visible growth rate then in the recent past (primarily due to #2 at the start of this report), especially so over the next 2-3 years.
After some dwelling/checking on this, only 2 things have likely changed to this lower p/e rating, both are undeserving:
1)   Major still owns a 19% ownership in CAWOW fitness clubs (down from 36% in year 2006)  which has not worked out and so is the ever so pointed out "black sheep" to an otherwise long successful track record.  For whatever reasons, likely the mismanagement by the core owner of these Gyms, at worst this represents a potential 50 mill Baht write-down…surely not that big of a deal for a company which expects to earn some 750 mill. Baht this year, or 0.85 per share, or more. The company is determined to solve this dragging mini-holding.
2)  After the US induced global financial crisis various mega non-Thai institutions unloaded shares in Thailand, only so to plug their dire problems back home. Notably we know the HSBC bank, as nominee, showed a reduction of 100 million MAJOR shares during this recent time, or a huge sell down considering MAJOR only has about 900 mill shares outstanding.
Major has a market cap approaching 400 mill US$, is in a defensive industry with high growth rate and good to excellent corporate governance and a recent Beta, just slightly below the SET averages.  The movie line up this year is strong, the new mega shopping center (Mega-Ban-Na) not well understood by investor.   My view is a stronger buy on MAJOR even while I don't know when the stock will bounce up, I am very confident its at a major bottom at the current prices around 12.60.
MAJOR is my core pick (along with DEMCO) for a nice stock price turnaround besides a quality investment as a mid cap pick, with respectable dividend yield.
Best Regards,
Paul Renaud.