ILINK another core growth stock choice.

Submitted by PaulRen on Thu, 11/06/2015 - 3:42am
 ILINK is a new growth stock choice of mine, in a desirable sector.  (Below was slightly revised on June 14th 2105).
For now, the Thai pillars of economic growth going forward are and remain: renewable energy, infrastructure spending and IT connectivity. Tourism may well be another but I here have always stayed away from this more volatile sector.  T
oday I show my choice and mini-company review on the IT connectivity, ILINK (18.9)
ILINK (18.9) is a leading growth stock in the right sector where earnings momentum and even acceleration justify a high p/e rating.  I today chose this stock with a new "buy view" and my selection in this sector.   "ILINK which will gain direct benefits from government's "Digital Economy" scheme."  A Bangkok Analyst told me.  
I met up with ILINK and was impressed on the broadness this company has and how it will benefit and lead the Thai growth in IT connectivity. Submarine cables for electric and fiberoptic to various tourist island (there are some 50 of them) is just one such pillar of growth.  Management is young, energetic and with a credible reputation going all out to bring ILINK to likely much higher earnings ground.  
The company now listed on the MAI exchange, I am told, will move over to the SET in August. This may be a catalyst to a re-rating. The top 4 largest shareholders own about 60% of the outstanding shares. There used to be 263 mill. shares outstanding but post the most recent stock dividend, there are now 362 million shares outstanding.  The 52 week high/low is 21.30-13.20 Baht.
I can see ILINK earning around 250 to 280 mill. this year or some 0.85 per share this year.   Bref, here as a way of introduction for members to get to know this company better I show ILINK"s recent hand-out to investors.  
 Paul A. Renaud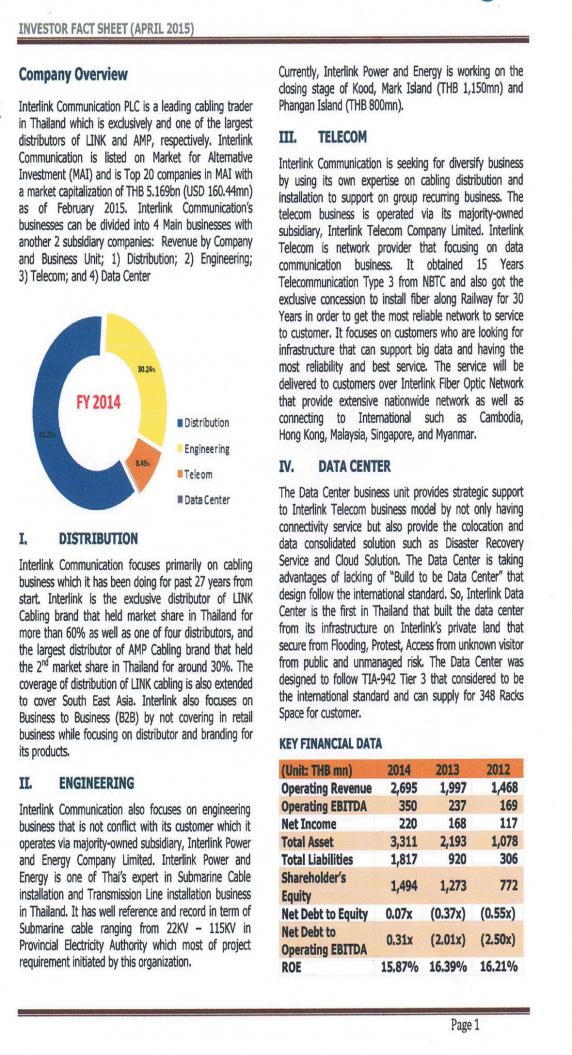 ---