Greetings from Zurich Switzerland, investor wise glad to be in select Thai stocks.

Submitted by PaulRen on Sun, 05/06/2022 - 8:44pm
Investor wise glad to be hiding it out in select Thai smaller cap stocks. Greetings from Zurich-city center Switzerland. The situation in EU and Switzerland is far more dire now, as they predict sharp increases in energy costs, across the board this coming winter, due to cutting off oil/gas from Russia. France just signaled to Switzerland it will reduce its electricity sharing with this Alpine nation.  Switzerland expects a 20% increase in consumer electricity prices this coming winter.  Glad we are in Asia, as the mad man Putin continues with his atrocities.
Lots of comments in financial postings web sites by various pro's wondering where the US markets will settle or if the bottom has already hit?  Many forecast a US/EU recession coming within 6-18 months.  One key real concerning issue is how the US Fed is way behind in raising interest rates.  Inflation being well above 4% just now and for some months, yet Fed Funds rate still at 1%.  Hence lagging in a big way! 
There has never been a time in US history when US unemployment was below 4%, while inflation above 4%,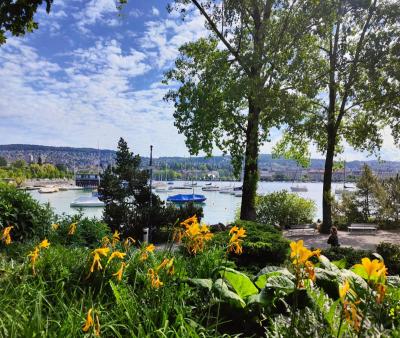 without then a US recession emerging later.
Many comments on crypto as well, to which I replied to one: "The key in the past seemed to be crypto's attractiveness in being non-correlated to global stock market movements, or being an inflation hedge, or an alternative to gold. Year to date none of this has proven true! Some of the best investments can be found in the "darkest corners". Thai smaller cap, high dividend stocks, seem to fit: not least highly non-correlated to all else here over-analyzed".
Still glad to be hiding it out in select Thai smaller cap stocks which have just about nothing to do with the above!  Consider as just one example (and there are various others I like as we know)  SMD (12.70), here is a pure Thai medical supplier company, trading well below p/e 8, at ROE of recently 70%, which just reassured through an interview its expectation to keep growing or at least stable this year.  (see below).  SMD is a prominent model portfolio selection of mine!  
Best Regards from vibrant Zurich, Switzerland. with on off rain at a pleasant 20 degrees.
Paul A. Renaud.
www.thaistocks.com
GOOGLE TRANSLATE:
SMD is confident that this year's revenue will reach its target despite the decline in ATK retail sales, expanding vending machines.
          InfoQuest News Agency (25 May 65)--Mr. Wirot Wasutthikulkan Chief Executive Officer of Saint Med Public Company Limited (SMD) revealed that the company remains confident that the year's revenue will grow to meet the target of 2,100 million baht, despite the retail sales of the SARS-CoV-2 Antigen test kit. Rapid Test), or ATK, may have a downward trend after the COVID-19 epidemic situation eased. The company's main customers are among hospitals and there are more than 200,000 medical personnel nationwide who still need pre-treatment tests.
          The company has also focused on expanding the distribution of medical devices for self-use at home such as digital blood pressure monitors. ECG recorder during exercise Digital thermometer, vitamins, dietary supplements, etc., and in the future will add other products. Continuously increasing through Vending Machine channels
          "Although ATK sales have a downward trend. from the situation of the epidemic of the Covid-19 virus unraveling.   However, the company has expanded its business in other parts. Especially in the field of selling medical devices for home use by themselves through vending machines, Vending Machine has a continuous growth direction.  We believe that earnings will continue to grow in the following years," said Mr. Wirot.
          In the past, the company has installed 60 automatic vending machines in various hospitals across the country. which has received good feedback from customers Therefore, the goal is to set up 100 more cabinets within this year. and plans to add at least 1,000 more cabinets by the year 66 At the beginning, the focus will be on installation points in various hospitals. Nationwide, more than 2,000 locations
          Mr. Wirote said that the Company views that the medical device group for self-use at home continues to grow. And it is expected that the total market value will rise to 100 billion baht within 2-3 years, in line with the market in the United States, where this group of products is 20 times larger than Thailand.
          The business of leasing medical equipment (Leasing) supports the needs of the government sector. Currently, it is negotiating with another large medical school, valued in the range of 150-180 million baht. If winning the auction, it will require an investment budget of about 150 million baht, with a 3-5 year lease.
          In the business of selling critical medicine (ICU), although in the past two years, there have been group purchases. The ventilator has already gone a lot. However, there are more than 20 other medical device products in the ICU that the company sells. Purchase is required in order to replace the end-of-life medical device. It is expected to begin to appear at the end of the year. Which is the period of the budget for the year 66, at present, the company has a backlog pending revenue recognition (Backlog) of more than 350 million baht. It is expected that all revenues will be recognized by September 65. 
--InfoQuest by Somboonkiat Panichcharoen/Sasithon Call 02-2535000 ext. 345 Email: sasithorn@infoquest.co.th--