The ending of the 2nd model portfolio today. Stay tuned!

Submitted by PaulRen on Fri, 02/04/2021 - 9:22am
April 2nd 2021, at 9:30AM, before the market opens, I am today ending the 2nd model portfolio documented all along, and as here shown below, but now ended.
As a prudent value investor I am ending the (always) diversified 2nd model portfolio, today.  This 1 year after I turned maximum bullish stating so at my front for all to see.  Posgt a 2 year period of underperformance and hence not asking for any membership contributions leaving access for free.  Then with much fanfare I re-launched all in vigor in early April 2020, and invited committed members to re-join for 20,000 Baht.  Many of you did and I was happy about that as I was convinced superb investor returns would be forthcoming from early April 2020 to my one year investor objective.  The rest is history as they say and as you can all see below. The second model is today ended. Scroll further down for another posting of the first model again, which I ended last June 6th 2020.  As I show the combined total yearly return is over 75% -and far ahead of the SET index.  I think its fair to say membership here was a good investment in returns and knowledge. :)
My concern at present is that: 1) The SET index will not likely just blast through (and stay above) its major 1600 resistance point, in the short term.  2) Stock markets around, not least the US, seem overbought in the short term and long US interest rates are now rising which dents' equity enthusiasm -at least in the shorter term.  3) The Baht currency is weakening some and was the worst performer in the region last month, I feel this could well continue for a while so it pays to re-think/evaluate which sectors/stocks will benefit from this, beyond STGT.  
Last not least, 4) yet another one of my stock picks hit the +50% appreciation and I want to nail down profits and set the record clear and clean for the past fiscal year of high investor success. I always said I had a 1 year investor objective. Of course, as always I could be wrong as I realize there are lots of new investors in the SET now, which buoy things to more active.  I am not saying "sell all stocks and move 100% into cash", everybody has to decide this on his/her own.  I am just opting on this decision here as I think I can buy back on a price correction.  Renew your membership & stay tuned.
Of course, as always, member comments/observations or other are always welcome!
Most members' annual contribution expires at present and you need to renew so to keep on board, as I (shortly) plan my next investor move/view.  I will send a direct email to you for renewal within days to those which expire now.  Membership full access will be ended within some days, unless/until the yearly renewal is received.  Renew, so I can keep up here in full vigor here , as you have seen/benefited of recent and before.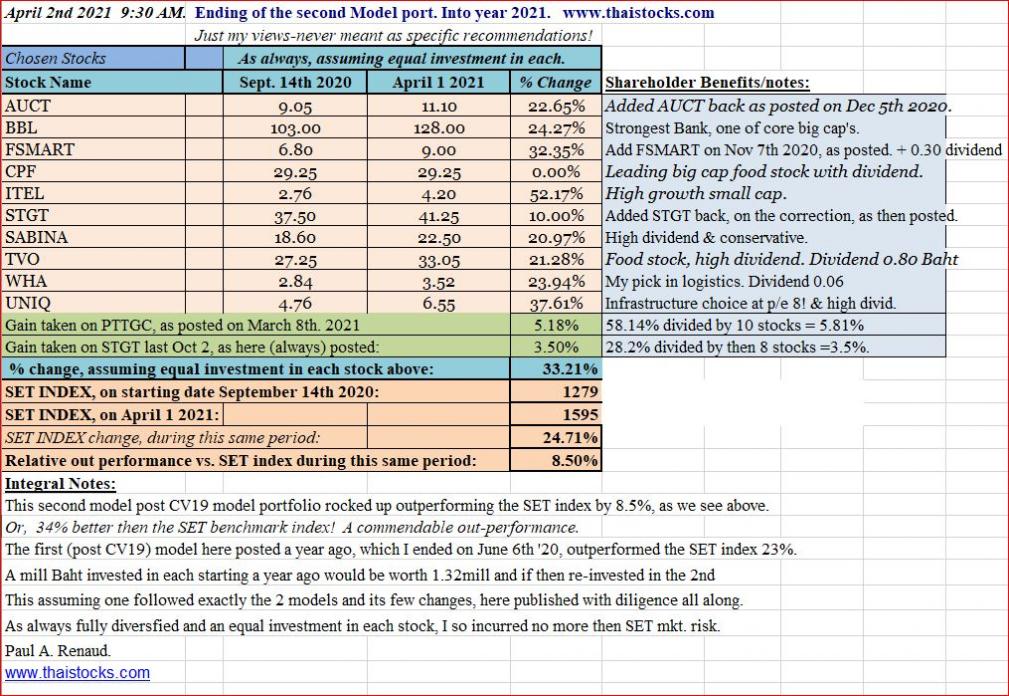 =====================================================================================================================