DEMCO's on site massive wind farm visit.

Submitted by PaulRen on Sun, 29/07/2012 - 5:40am
DEMCO's on site Wind Farm visit last week.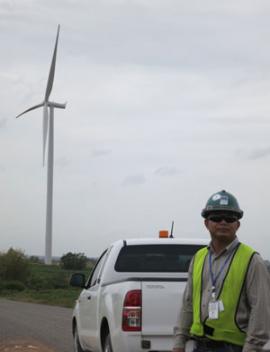 It was a great day.  DEMCO's (5.45) company van drove us 5 some 3 hours from Bangkok's Ari Sky Train station, directly to the site. Upon opening of the van door on arrival the steady blowing wind was immediately noticeable. This vast area on the way to ISAAN is around 400 meters above sea level -and so rests on an upper plateau where the trees are spare -and the valleys just slightly rolling. No large birds hang around there.  Trees and hills can obscure wind levels but even at this trees would not matter much as their wind power polls stand 100 meter tall, or similar in height imagine to a 33 floor high rise building.  A worker told me there, when asking about wind, "its always like this up here".  (pictures here are from the actual site).
The whole project is ahead of schedule and expected to be completed by the end of November.  But while this is good news, the hook-up to the Thai electric authority with the 3.5 Baht adder rate, will not start until very early next year, this all as expected. 
To be precise, their Hua Bong #3 just now is 83% complete and the second Hua Bong #2, is already 44% complete.  #3 will be 100% completed by end of August and #2 by late November.  All in all there will be 90 turbines, rated at 2.3 megawatts each. 
89 of the 90 foundations have been completed.  These, state of the art Siemens turbines are rated for lower wind speeds as well -where even wind speeds at 4 meters per second will generate electricity. The mega installation of 90 towers (erected by a 600 ton crane of which there are only 2 in the world lifting such a load), are all the full responsibility of SIEMENS -as is the yearly servicing of all the wind mills.  This was very good to hear as the annual servicing/checking of such huge wind mills is a big job/responsibility in itself.
The turbines have been officially rated for financial purposes as having a 20 year life span.  However, DEMCO and SIEMENS believe they will last 25 years.  After this long period, the fuselage (there is a lift inside each steel tower) will be replaced to the then latest technology available -and so will keep working for another long period after that.  Hence, its like "freehold"!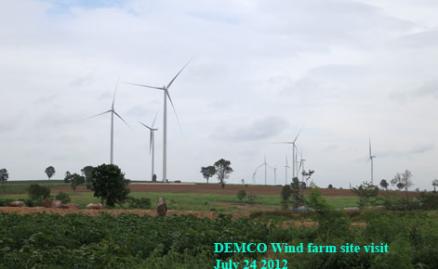 What I learned after some checking is that over the past many years Thai electric rates have increased on average 2.9%, per year.  So that is very close to what the recent annual domestic inflation has been -and so a regular increase here can be expected over the years to come.  This means, since the annual dividend to DEMCO is expected starting at 200 mill. Baht per year, this so will likely increase to 355 mill Baht in 20 years from now. (assuming 2.9% per year).  Or, put another way, DEMCO's annual tax free dividend income will double in 24 years from now.  Of course if the price of energy/electricity increases more (or less) in the future this will change accordingly.  I think its reasonable to assume the global price of energy will only go up as the years go by and maybe even more then the general level of Thai inflation -as the World is depleting its main energy source (oil). Many experts as do I believe the cost of energy will increase slightly more then the average yearly inflation.
K. Phongsak,  DEMCO's very able, personable and smart managing director, said they are interested in keeping this wind farm "for a long time -and not likely to sell it out anytime soon",  due to the high tax free yearly dividends. DEMCO would have to generate a huge amount of yearly recurrent revenue (say 5 Bill. at 5% net profit margin before tax), just to match the tax free income from this wind project. 
I think this shows their strong commitment & likening of their wind farm and so not likely to dispose of it any time soon. To us shareholders it means the probability of high and increasing dividend income per share, for this year and well beyond.
 
The Kim Eng upbeat analyst projections assumes a 10% tax on these dividends to the company, but in fact all dividends (on this mega wind project) are totally BOI  approved -and so 100% tax exempt!  This was just reaffirmed.  (This means Kim Eng's bullish analyst there will have to re-adjust upwards his numbers, allowing for 0% taxes. :)
To state again, for me I was delighted to hear the project is ahead of schedule by a couple of months -and most of all: that SIEMENS is fully responsible & contracted for the yearly servicing of all these wind mills!  (SIEMENS has a big office building with its name on it in Bangkok).  It was equally good to hear that their wind energy rate will be adjusted upwards as electric rates are over time -and that all these dividends have not tax at all to DEMCO.
The company has a number of other approved wind projects in the pipeline after and for some 3-4 years to come. Post this mega project the company will be the leading specialist in such huge undertakings.  Most of these next projects have already received the 3.5 adder rate as well. All this is well outlined in their backlog and the accompanied table there which shows their projects for the next 3 years.
The other positive is that the 3G upgrade by telecom companies is expected to take a huge 6 Bill. capital investment, mostly in new 3 G telecom towers where DEMCO will be the key contender -as there are very few companies in Thailand which are qualified to do this.  DEMCO is a long specialist in erecting telecom steel towers as they did most (I think all) of those in the past for DTAC.  Hence the much touted 400+ mill. Baht contract received so far this year on this is likely to be just the beginning of their other lucrative core business.  Watch out for the second phase of huge Thai investment announcements in this now growth/important 3G business.  (Realise, that existing telecom towers cannot accommodate 3G technology.)
I think the second Quarter earnings will show an impressive further 40% increase over the already mighty 1Q. To be announced in the 2nd week of August.  The interim dividend should be around 0.15 Baht per share, as this is their stated 40% on earnings payout ratio.  This is almost double the 0.8 Baht paid for the last 6 month period.
For cash flow purposes the company may decide to pay this dividend in 2 separate tranches. Realize, DEMCO is still making some final payments to Aelous company for their 27% stake in this company which will 60% own this massive wind farm.  (SE Asia's largest by a long shot).  DEMCO reaffirmed that there are no plans for any capital increase this, nor next year. Another positive as it would dilute earnings.
My stronger buy view remains in tact despite the stock price having outperfromed the SET by a factor of 3 this year. Hurray for us as I was super bullish on DEMCO all last year as members know all too well. 
 The average daily trading v
olume in their shares has massively improved over the past few months and DEMCO's  market cap., at say the current stock price of 5.50, is very close to 100 mill US$ now.  This is an important threshold for institutional investors to start get interested.  These, I bet, while not touching DEMCO's at 3.50 per share, will soon learn to love it at 5.50 -and above.  Watch and see, deja vu all over again.
Best Regards,
Paul Renaud.
www.thaistocks.com
PS.   Dr Nives will be seen face to face with DEMCO's K.Phongsak on TV, this Monday, where an interview will be conducted by the "Money Channel",  (not sure just now when this will be aired).  And so, the touted acclaimed master here will realize that the shares are now about 60% higher than when he first heard about them from me, last February.  Maybe Dr. Nives should have paid a bit more attention to Thaistocks.com long ago. :)