Demco, the update yet again.

Submitted by PaulRen on Mon, 19/01/2009 - 7:15am
Posted for Members only on Jan 18 '09.  Made available to all registered users on Jan 22 at noon Bangkok time.  Demco is just one of several in the continued example here of shareholder value creation -which I continuesly aim for.
An update on Demco which remains, before and after the western induced recession, a core choice of my smaller cap, high dividend yielding value selections.
Demco (3.40) is a MAI listed company I first viewed very favorably some 2 years ago at then below the current market price or around 3. It then had a fabulous run to 7 and drove us all crazy.  Many members got out with great profits, others did not -and I can't here recap from memory what all I said about that except that its long term prospect remain great.
My long term view back then, as it is now, calls again for a renewed "strong buy" for medium term investment. 
You can see there web site here:  www.demco.co.th
You can see the original Demco company visit report here, this original member only report is now visible for all viewers to see. Some 3700 people have clicked on it since.
/index.php?module=Pagesetter&func=viewpub&tid=1&pid=761
Despite the global turmoil and the press telling us daily how bad things are, and for many they are, despite the US caught in the worst recession in 50 years and many EU and US banks in trouble and broker failures, and yes even despite the SET index dropping nearly in half since etc,…Yet, Demco's stock priced -including the stock dividend (8 existing shares, for 1 new share), free warrants and cash dividends- Demco is some 25-30% higher today then back then when I pounded the table on.  And ever since that initial report for you, I kept Demco as a core/main position -and stated here so.
The company has delivered since then by reporting a 9 months net profit of 172.9 mill. Baht or 0.65 Baht per share.  This net profit was on 1.592 Bill of 9 month revenue.  The company just told me they expect/project 2.1 Bill. of revenue for all of 2008 and,  2.5 Bill. for all of year 2009. They are expected to retain their SET/MAI tax privileges besides the BOI exemption.  The company believes 10% net profit margin is more realistic/achievable moving forward vs. the 7% of recent.  The company states it has a 1.5 Bill Baht backlog.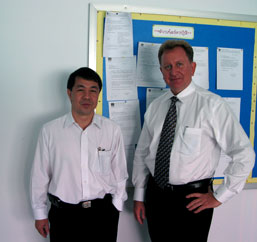 On this guidance I can project 210 mill. net profit for year 2008 and 250 mill. for '09.  Based on 302 mill. shares outstanding, this comes to 0.70 Baht per share (EPS)  for this year and 0.83 per share for 2009.  On the current market price of 3.40 a trailing p/e of  4.8 for all of year 2008. And a forward looking p/e of only 4 for year '09.
Demco's return on equity (ROE) has averaged some 30% over the past 3 years. The book value is around 2.26 Baht per share and there is some debt, as I can see of around 60 mill. Baht.  On Demco's long term debt, the company writes me:
"Current long term debt = 20.6 MB. Latest D/E ratio = 1.35" (where MB, stands for millions of Baht.
There are 88.5 mill warrants outstanding with a 2 year life period remaining, but they are only convertible at a now relative high 4.50 Baht per share. This is 34% out of the money so I have not included this potential conversion (29% dillution) into in the number of shares currently outstanding.
The company currently employs 70 engineers, this as compared to 60 when I visited back in early Feb of 2007.  Besides its core business, the company just signed a steam pipeline of 250 mill Baht with PTTUT, showing its broad capabilities/expertise beyond just electrical grids. Electricity demand/usage is expected to double in Thailand over the next 8-9 years, and being part of this is Demco's core business.
More close observation shows that in the 3Q. Demco had a temporary drop off in profit margins. This was explained by management as being a passing change in the contractor/service business mix that Q. Along with volatile steel prices at mid year -and increasing but temporary political hick ups. The company now believes this adjustment is behind them and now projects a 10% profit margin which I believe, as in the past Mgt. has been prudent while realistic in visits.
The new exciting thing with Demco is its new Wind electricity generating contact where EGAT has already signed-up. This is likely to be Thailand's first major wind farm.  Demco is the chosen contractor to build a 7 Bill. Baht wind turbine project in the Petchubun province. In 2-3 years it is expected to generate 70 megawatts of clean & green new electricity. The construction time period is less then a couple of years and the MOU calls for Demco to receive 1.2 to 1.3 Bill. of revenues from this. After some study period, completed now,  Demco will start this project as contractor in the 2 Q. of 2009.  Hence the revenue projected for 2009 could end-up being more like 2.7 Bill, as we read in a Thai language report of late.
This represents a substantial potential % increase. As the base revenue for Demco is around 2.5 Bill. for year 2009 as reported.  Hence I can see Demco's earning going to 0.80 Baht per share in 2010, including the potential 30% earnings dilution of the warrants which are convertible at 4.50 per share.  Full conversion of all warrants would mean 390.5 mill. shares out standing. It would also infuse the company with just about 400 mill. in new capital for its next green project?
Wind power is increasingly profitable besides desirable in many parts of the world, especially when on a larger scale which is the key to economic success. Thai's EGAT may be able to sell/trade some carbon credits as a result of more clean energy in the generation of electricity.  So it may be the start of more to come, even while Thailand does not have huge wind valleys. 
Note how the core business of Demco has nothing to do with tourism or exports and now with more stable politics besides lower oil and steel prices there is every reason to believe Demco's earnings will keep propelling higher while rewarding the shareholders at the same time.  Demco unlike some other companies is relatively often in the Thai news and explains its company through MAI presentation days etc..
Demco should command a premium p/e ratio on the MAI for its transparency, green status and highly stable growth prospects away from the global recession plagued sectors. I so can see it going back to its old high price of above 7, and this is my price objective. Keep posted.
Best Regards,
Paul A. Renaud