DEMCO, the big earnings turning point has arrived

Submitted by PaulRen on Fri, 11/09/2015 - 3:10pm
DEMCO on its earnings near explosion now as the turning point has arrived.
DEMCO (12.70) offered as always for years already its regular quarterly "SET Opportunity day" presentation yesterday.  We listened to it in its entirety and came away smiling as it re-affirmed what I wrote here last July 22nd, and put to rest some of the nonsense analyst comments made during the August market sell off as I then pointed out in our member-lounge.  Here is my previous article on DEMCO:  https://thaistocks.com/content/demco-revisited-very-upbeat
Seasoned and newer members know that I remain a strong investor fan in this company -re-affirmed so all along.  I attest this by having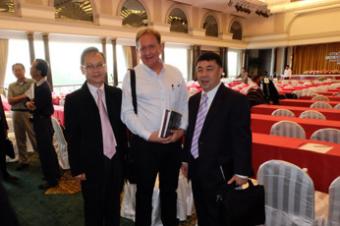 it as the only double weighting in the on-going stock models, for some time already.  One key reason, besides being a fan of management which I visited all along,  is the fact that this company's earnings prospects are not dependent much on the Thai economy, the local consumer, tourism or exports. It also paid (pays) a nice dividend twice a year, all along.
This company has a colorful history besides stock price swings; too long to here summarize except to say its share price has more than tripled since I started "pounding the table";  at some point increased more than fivefold, only to correct back.  It's one of the very few I did not advocate profit taking as it rose multiple fold, except around 16, in April of 2013 –just as it ascended to peak at 18. Only to a few months later view to get it back ever since.  This is a long rise from 3.50 per share where I started to view so very positively back in years 2011-2012.  Most all seasoned members here have a substantial realized and/or unrealized capital gain it.  I still say today, the best is yet to come. 
DEMCO invested 4% in Wind Energy Holdings (WEH) a couple of years ago, which is the country's largest renewable wind energy company. WEH was acquired through a majority stake by KPN 3 months ago.  Its a done deal and the final paperwork on all this will be complete within 60 days.  WEH has large multiple years long schedule on building 6-10 mega-wind farms over the next 4-5 years, most of which have all the legalities besides PPA's firmly in place.
The key points of yesterdays' presentation are:
WEH is very much on track on building 4 major wind farms next year and will likely IPO within the first six months of year 2016. This should bring DEMCO 2.5 Bill of revenues on that alone, conservatively assuming DEMCO gets to build 2, of the 4.

The second half earnings will be a record for the company and the MD reaffirmed 6 Bill.+  of revenues this year. Hence the earnings projections of various analysts will have to be raised.

The MD expects some 4.5 Bill of new backlog to be secured over the next half year, and so the total backlog may well rise to 10 Bill, another record in the firms history. "Lots of jobs are coming in".

The WEH IPO when it happens will bring a huge windfall profit to DEMCO as the cost of its shares in WEH are around 190 Baht per share, but the fair market value is likely more then 600 Baht per share.

The company so will have ample funds to finance its high growth next year, even if their Warrants # 6 do not convert at 15 Baht per share in February 2016 (the expiration month).  But the company expects they will.

The Purchase Power Agreement permits with EGAT (PPA), will not expire anytime soon, so there is no worry about the delay of WEH in getting going on their wind farms.  The delay this year was solely due to change of the major shareholder whose stake was acquired by KPN, as mentioned above.

Tax free dividends from its existing Huabong 2 and 3 wind farms are exceeding expectation due to retrofitting by Siemens of the blades.
As mentioned before this company will very likely report strong 3 and 4th Q earnings this year due in good part to revenue recognition by one of its client EA.  DEMCO just paid a 0.125 Baht interim dividend on September 10th.  Next year looks like the golden year for them due to many new jobs, not least the mega wind farm constructions very likely appointed by WEH.  Earnings wise,  I think it's DEMCO time for 2H15 and into 2016!   For this year I estimate 0.70 earnings per share and 1.15 per share for year 2016.  DEMCO, a SET 100 index stock, is so trading at a p/e of barely 11 on 2016 earnings estimates,  far too low in my view.   Hence at some point I can see the stock flirting again with its all time high of +18, but this of course also depends the SET regaining some of its lost prominence of late, as I think it can.
Considering all the above and more, I here so today re-affirm my strong buy view on DEMCO trading at 12.70 as of 3 PM today.
Best Regards,
Paul A. Renaud
www.thaistocks.com