CRANE my value pick. The comprehensive update

Submitted by PaulRen on Sat, 01/08/2015 - 4:53pm
Chu Kai Public Company Ltd. (CRANE, 3.46 Baht per share as of July 31 2015)  
Their web site is:   http://en.chukai.co.th/investor.html
You can see the SET tear summary sheet on it at this link:
http://www.set.or.th/set/factsheet.do?symbol=CRANE&ssoPageId=3&language=en&country=US
The Chu Kai Group of the Companies has been set up by Mr. Thongchai Praerangsi in 1990 in order to provide rental services of cranes, forklifts and other construction machinery for lifting, assembling and installing large and heavy objects as well as sale of machinery under The Crane Services Co., Ltd. ("TCS"). After the industry-expansion, Mr. Thongchai Praerangsi has set up The Crane Laem Chabang Co., Ltd. ("TCL") and The Crane Rayong Co., Ltd. ("TCR").  In 1997, Mr. Thongchai Praerangsi has set up Chu Kai Co., Ltd. in order to import used cranes and parts from aboard for sell including repair services.  There was group restructure in 2004, which CRANE has invested in TCL, TCR, and TCH for 99.99 percent each. CRANE also has invested in TCS for 99.99 percent in 2006.  After all the group restructure, CRANE is mainly operated in sell and provide repair services for cranes while its subsidiaries only provide rental service.  While there is lots of competition in the smaller lifting segment, the company is considered the Thai leader in large cranes, of say 250 tons and above.
I mid-July 2015 I re-visited extensively with this old favorite which after a nice rise in February spiking above 6.60 Baht.   in recent months/weeks its stock price just lingered lower again, along with the sagging SET index.  The company had a 9 for 1 stock split in April '15, also paid a miniscule cash dividend of 0.01234568 Baht per share.
If you search for CRANE (we now got a great search engine at the new site) you will see I favorably visited this company for some years. Riding it up and down and on occasion advocating taking profits, only to come back after a drop.   For a while now I feature it as one of my selection in my model portfolios.  In the first half of last year rising it rose 55%  in that model.  To long members here the stock has done relatively well… yet since that rise up until mid year 2014,  it has disappointed since along with the SET and the Thai economy.  In 2014, sales income decreased by 24 percent. This was directly affected by the slowdown of public infrastructure project investment. Which however now I believe is reversing.
As the company states in its latest annual report, 2014:
"The company will not only emphasize on the income growth and operation profits but will also extend to focus more on marketing, services, and human resource. Relating to marketing, corporate image and branding will be strengthened through being an agent for Zoomlion, leasing and transporting machines under the brand THE CRANE. The company is a leader in heavy industry services with the advantages of having the biggest machines in the country and long experience. Not only services, we also provide lifting solution for the customer to lift/move their machines effectively with a reasonable price. In terms of services and human resource, the company will develop our services to be excellent with world class standard. The company's personnel will keep developing their knowledge and skills to be ready for working in a more competitive environment both domestically and internationally after entering AEC at the end of 2015….while goods transportation requiring cranes and container lift trucks will also expand at Laem Chabang port. "
Chu Kai Public Company Ltd. (CRANE)  Achievements in 2014:
-Award of Outstanding Individual Contribution 2014 from Zoomlion Heavy Industry Science and Technology Co.,Ltd.
-Award of Safety Recognition for the great achievement of Zero Accident from PTT Global PLC. Branch 11
(Olefins 3)
-Award of Safety Recognition for the great achievement of PTTGC 11 Zero Lost Time A ccident in Year 2014
from PTT Global PLC. Branch 11 (Olefins 3)
-Award of Safety Recognition for the Successful Completion of the Turnaround and Event Project 2014 from Star Petroleum Refining PLC.
Earnings this year are lackluster but this will improve post the 2 Q. and going forward:
At the beginning of 2014, the company sold a non-performing land plot and used the money to reduce loan burden besides interest expense.  This provided the company with higher net profit of 226% (i.e, a one time 122 mill. Baht gain), as compared to 2013.  Then last August 2014, the company moved its listing from the MAI stock exchange to the Stock Exchange of Thailand (SET), so as "to increase the potential and be prepared for the more flexible growth in the future".  Shares traded on the SET in that sector have a high p/e rating.
The Crane Hidden Value Story:
Thai investors do not understand the hidden value of this company and the Thai brokers are not visiting (yet),  as the total market cap. is just 70 Mill. US$.  I think CRANE is now both an earnings turnaround and hidden value stock choice, currently trading below its p/e sector along with no recognition of its hidden value.
To a value investor this company has allot of unseen assets, as pointed out for some time here.  Let's revisit this today a bit.   CRANE per year has a 200-300 times' deprecation advantage, i.e.  many of its cranes are fully depreciated, yet still operating… where maintenance nor fuel price is not an issue as they cost this into the rental price.  The company, as the Finance director explained to us, knows it has "a 2 Bill. Baht hidden value", not including its land, this comes to about 3 Baht per share!  Just on its core business, cranes.  Not including the company's land which some was bought 18 years ago, surely the land's market value has gone up substantially in price during this time. 
For example:  "Nov. 2006 CRANE has been granted the loan in the amount of Baht 280.00 million to purchase land on Bangna -Trad Km. 22 for 34-1-41 Rais from Today Transport Co., Ltd. ("TDT") for its future expansion. This loan is used for debt restructuring between TCS and TDT as well"
I visited their annual report and tried to find how much land the company owns but did not readily find this. The point being that even without the land, many cranes are fully depreciated with CFO confirmsing 3 Baht per share of hidden assets, while the stock price is lingering around a very undemanding 3.50. Hence the company is going for 0.50, per share amazing.   I rate CRANE so my hidden asset value buy.  And in fact, their core business is proceeding rather satisfactorily with the company confirming double digit revenue growth this year and a likely capital increase of some sort before year end.
When they buy a crane from a company they get a certificate for 30 years operation from the company, but often these operate even longer as they are well maintained.  Yet they depreciate these over only 7-10 years. Some are aged 35 years and older.  Unlike a car, cranes do not depreciate in value…sometimes the price even goes up.  Recently they had one for 5 mill. used it for several years then sold it for 6 mill.
Their new CEO, started last September 2014, Mr. JESSADA PROMJART.  Here are some of the things we found out at our 2 hour person to person meeting: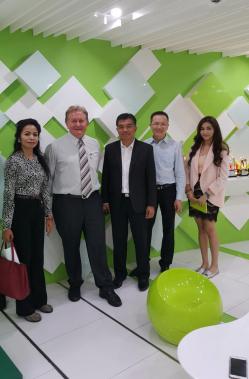 ---Crane is definitely the market leader in heavy lifting above 250 tones. Their biggest being 1250 ton.
---450 workers, 60% of them are crane operators.  About 2 years ago this number was 420.
---50/50 Sales/Rental mix. But trying to get more on rental, as margins are better. Current utilization on its inventory of big cranes is around 60%.  Yes, lots of competition in smaller cranes like EK (not listed), but not in heavy lifting where they are the confirmed leader.
---All big contractors like ITD, STECON, CK are their customers.  The company recently bought 2 new 250 ton cranes from Japan and benefited on this through the drop of the Yen vs. Baht exchange rate.
---Gunkul is about to become a customer 150 wind towers, about to start in Korat. This job likely to be signed in September.
--Main Customer are among others Port lifting, Wind, Petrochemical.
---Laos Dam project waiting expected in 3 Q., teaming up there with a local partner.
---Will benefit on infrastructure bidding, but not clear yet when/how, this especially on 2 track train.
--Buying more cranes from Europe (Germany) 1000 tons, 300 mill.  Baht. This may result in a capital increase and or free warrants by the end of this year.  I would expect some free warrants coming before end of the year. In the 3 Q. they will make an evaluation on CAPEX.
--Diesel  prices dropping not a factor, as their customers pays for this.
---Biggest competitor TSK (not listed company).
---Have a great very experienced and senior engineer from England (ex mammoth cranes lots of experience).
--- 35% is their usual & steady GPM.  This year's rev. may not grow 15% as expected but will be double digit.  1st Q. slightly better then 2Q.  But 3 and 4 Q. will be improved.
---A new "Auction Yard" is now in place where they auction off cranes on a big scale on their own land. Crane owns land in Suratani near Airport and will be expanding this business. So it's a money maker as it allows better sales of cranes.  They also run a "Crane training academy" to train operators and give licenses to those.
--Making some further inroads into Lam Chabeang port which is a huge crane operating port. Also into new Burmese boarder boom.
-- The Zoomlion cranes from China, where the company is the sole importer. This relationship is being reviewed and re-assessed.  Imported 450 from China importing cranes and sold last 4 years,  through their Thai hub. Reviewing their relationship with Chinese Zion Million, where they are the exclusive importer of cranes.  Expecting the Chinese do some investment and offer leases which has not been forthcoming.  http://en.zoomlion.com/products/index.htm
Further comments:
--AEC talking to big contractors but no real insights into this so far.
--Are seriously looking into broadening their business through maintenance services of oil drilling ocean platforms.
--CRANE can maintain/repair/ all brands of cranes, which is their strong point.  Including sourcing of parts. Nobody else can do this like them, as they know all the brands.
--The company states as soon as their strategy is more clear they will give the "SET Oppturnity Day" presenation
3 daughters and one son of the founder all work full time in the business. Which combined the Family own 55% of the outstanding shares.  If you own some CRANE already my view is "accumulate buy".  If you don't own any yet, I rate the socks with a buy view taking a 6-12 month view. The caveat to wake the stock up is their announcement of the Gunkul job and/or the capital increase I expect before year end (i.e. issuance of warrants). 
Best Regards,
Paul A. Renaud.