CHO visit. The comprehensive in person company visit with its CEO and CFO!

Submitted by PaulRen on Mon, 05/12/2016 - 3:54pm
First, an introduction to my investment theme for year 2017:
For next year 2017 I have identified 4 specific Thai listed companies while very different yet all have key elements in common. They are AUCT (9.60), CHO (1.65), DEMCO (7.25), SUSCO (3.40):  1) their solid/attractive business model remains in tact but incurred a 12-18 month passing set-back due to special factors which are convincingly temporary -and this is now coming to an end.  2) their respective stock prices have in the recent times traded considerably higher than presently, yet now seemed bottomed because: 3) year 2017 looks like a strong earnings recovery year for each which the market has or shortly will start to recognize. I.e. their stock price have started to bounce off their recent bottoms. Last but not least, they are all from very different industries so combined present solid biz. sector, diversification. While I dare not state or know which one will be the performance star, I am convinced they combined should outperform the SET index next year; as all going forward have visible earnings growth along with a presently low stock price -which should recover. In some cases perhaps and likely dramatically so, say within one years' time.   
I have amply here reviewed DEMCO over time and I warned a year ago that year 2016 would be their transition year due to an unfortunate "black swan" event of faulty engineered wind-foundations, the repairs of which are now in the final phase.  AUCT was added, explained and much touted in our member-lounge where I posted insights and research starting last July 2016, at its then bottomed price of 7.50-7.70.  To some early birds it already posted a 50% gain when it passed 11 Baht just a few weeks ago. To those which took profit I would say get it back on this price correction.   SUSCO, was the just last reviewed company with a rather articulate (last) member article, published on November 11, right at its bottomed price of 3.06.  All 3 have bounced up on average over 15%, from their bottomed price.  All of these now clearly favored choices traded at double to now, or nearly so, just a couple of years ago.
---
CHO company visit in Khon Kaen, Thailand on November 29 2016.  CHO Thavee  Dollasien PLC, my comprehensive company visit report and factory tour.  (CHO, 1.65)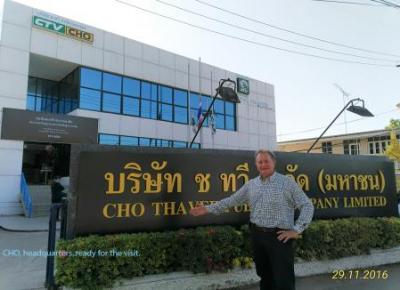 Today I am reviewing CHO (1.65) which also think is well bottomed and this based and much reaffirmed on my comprehensive company visit the city of KhonKaen, on November 29 2016.  Again to re-affirm, I pick these 4 key choices outlined above as combined strong recovery companies next year.  Their stock prices remains far below reached in the recent past and which I think will together unevenly climb faster than the SET benchmark index next year.  Hence I so differ from my investment approach to many other investors/brokers/traders which like to pick stocks which have already risen with the hope/expectation they will rise more.  Call me: buy low and sell high, vs. them: buy high and sell higher.
 CHO is at its most extreme as its share price peaked around 5 Baht in late 2014, or since that high point lost some 67% of its value. Its trading below its IPO price of 1.80, listed in May of 2013 on the M.A.I. exchange ever since. However, on April 27 this year it announced a 10 for 1 stock dividend and on October 28th 2013 CHO issued to shareholders for each 2 shares held, 1 new free warrant#1. These warrants-1 were convertible, 1 warrant for 1 new share, and the company reported on November 2 2016 that 150,149,713 warrants where converted, hence the paid up capital now stands at 296,972,494.50 or just shy of 300 mill. Baht which is required to move to the SET exchange, which I think will happen next year.
CHO has some 1.18 bill. shares outstanding and so a market cap. of just around 55 mill. US$.  Its current price to book value (PBV) is shown at 2.9 -and it has a near same, as the SET, volatility Beta of 1.06 year-to-date.  CHO's stock price was at 1.72 at the start of this year, hence barely moved ytd.  Its share price dropped from 4.53 the year before which was its yearly 2015 high price. In year 2016 ytd its high/low price is 2.64 / 1.37.  CHO has a  very 210 page comprehensive English language 2015 annual report which I looked at in some detail.  I like the CEO and CFO as well as the company secretary as honest, hard working and straight forward professional people with high education.  The CEO strikes me as extremely intelligent combined with high integrity, featured on the left hand side of the picture just below.
You can see the company's summary sheet, at this SET link:  http://www.set.or.th/set/factsheet.do?symbol=CHO&ssoPageId=3&language=en&country=US
On page 64 of its 2015 annual report the company described its business, as follow:
 "Design, inventing and manufacturing commercial automotive engineering systems including rail technology and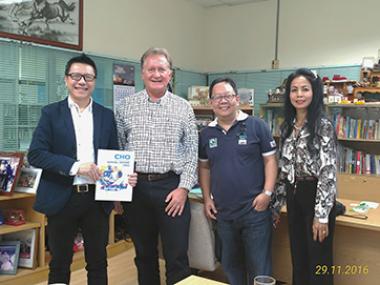 defense industry products for example trucks trailers, buses, catering trucks, trains fire rescue vehicles, armored vehicle, troop carriers and battle ships…."(and page 63:) "the company never stops doing research and development of products or engineering system works. The company research and development team has continuously designed new model of products and developed technologies. All of the designed and innovated products are registered with the department of intellectual property. The company has developed many items of 22 sub-patent s such as: mechanism in opening –closing side of truck's wall, set of attaching the supplemented lever, set of enlarging the length of adjustable across lever, se of or rope ladder to truck's roof, set of latter to the van's roof, set of the vehicle's ladder. In addition, there are the innovation of new products for more than 77 items under the registration process for sub-patent or innovation patent/patent in designing products from the department of Intellectual Property".  On page 69 of its 2015 annual report it states the patents are estimated to be fair valued at 61 mill. Baht.  You can see more about its web site at this link:  http://cho.listedcompany.com/company_background.html
A short history:
For the first two years, post its MAI exchange listing, CHO was on a fast earnings growth track with its stock price well more than doubling. Back then, before its rise, I rated it a buy and members who owned it had ample opportunity to take some 50% profits which is what I always advocate. Then over a year ago CHO started investing and planning heavily on the big NGV Bangkok new bus project which was in the making. Cleaner, more efficient, less polluting, all new, free WIFI etc it was obvious the Thai capital needed this -and CHO was the clear obvious contender.  The compa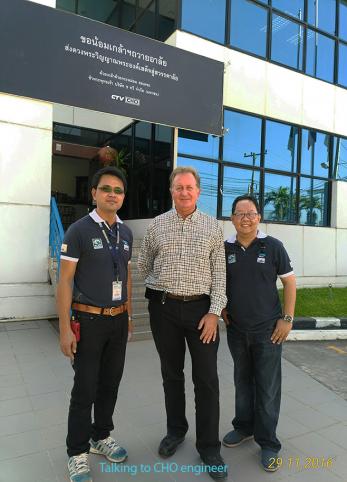 ny in fact "won the tender of NVG project [Announced on July 27th 2015.]..which however [5 months later on December 5th 2015] was canceled which impacted on the overall business performance"  as stated by CHO Chairman Ms. Phenphimol (page4), latest annual report (AR).  The President and CEO K. Suradech states on page5 of its last annual report (2015) "However as you all have know, the NGV public transportation project…had been suspended. Therefore we need to take legal action against the government agency further in 2016. And for those reasons the company could not reach sales and profit as the defined targets".   The company told me in person that it was only due to corruption and its the reason why they must as a public company take legal action which they now are and spend already 6 mill. Baht in legal fees doing so. On page 100 of its AR, its states:  "The company has undertaken to file an appeal with the board of BMTA and performed sue the board of BMTA with debts totally Baht 1,5000 million and filed a lawsuit with the Administrative Court further".
 This was a very unfortunate/unfair event because CHO was/is very if not extremely qualified and competitive and in fact "won the tender", yet got sidestepped as explained above.  This prejudiced incident caused the company much lost time & opportunity late last and this year;  as they had much planned & scheduled and allocated space to get ready for this mega job so to be on time.  In fact, they turned down other profitable orders and scaled up, in order to accommodate for this large contract which they at the outset did win the bidding as was announced with much fanfare in late July 2015.
 Moreover an addition event caused CHO some malaise this year. CHO THAVEE Thermotech, a 99.99% owned subsidiary of CHO, had designed new refrigerated and insulated bodyworks by using the latest EU technology in sandwich panel manufacturing. Unfortunately they made this product "just too good" and so alas Chinese competition with an inferior merchandise beat them price wise. This created lost sales and so a key reason for loss in its 3Q.  In addition to this, their PricewaterhouseCoopers ABAS Ltd. auditor prevented CHO from amortizing high R&D expenses, as it did in the past, by insisting these cannot be amortized but must be expensed when occurred.  In the latest November 10 '16, 3Q. mgt. review it states "The loss is because of high production cost for the production of new prototype of Special Design Product, abnormal expenses occurred this this period and the loss of Cho Thavee Thermotech Co. and joint ventures".   It is also mentioned that there was some postponement of orders and deliveries.  
Brief, these are the key reasons for CHO's shortfall in the 3Q and year-to-date.  But the key, and this was clearly communicated on 2 different occasions and in front of a witness at our visit: CHO's 4thQth will make-up much of this loss and may even bring the company to show a mini profit this year –or smallest loss. Hence the short driver now is that CHO 4th Q. will show a very nice if not dramatic earnings recovery and likely so propel the stock higher from the current oversold level.  Call this the catalyst in the shorter term and why I hesitate to just view CHO an accumulate buy.  Hence my view, as explained above, is that CHO is now past its nadir point post these key set backs, it learned from it and moving forward in actually a very positive way, which I will explain next.
Besides the much assured statement that its 4Q will see a smart recovery, there are a number of drivers which convince the worst is behind and the high growth will resume into next year. Perhaps not quarter after quarter in a linear fashion but in 2 years time or before we will see CHO being the terrific and profitable company –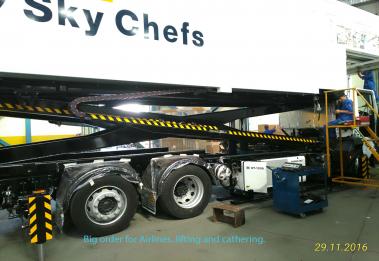 in good part due to its charismatic/smart/high integrity CEO direction along with its new growth phase, which looks entrenched.
To review CHO has 3 main core business:
1)   Sales and manufacturing of refrigerated and non-refrigerated various sized trucks for giant Lotus/Tesco, DHL and BigC (Big C just last week announced huge 10 Bill. expansion plans for Thailand, see here  http://www.bangkokpost.com/business/news/1147777/big-c-plans-b10bn-retail-expansion  .   These make up around 40% or total revenues for the first 9 months this year so far.  Tesco/Lotus alone operates over 2000 such trucks nationwide. I see 500 mill. of revenues next year from this segment.
2)   Catering food loading vehicles called "Air ground support equipment". Yes, including for the giant Airbus 380 (can lift-up to 9 meters high) realize CHO has the top global market share in this.  Some 80% of this are exported and are secured through irrevocably letters of credit and FX forward contracts. Oman, Emirates, Thai Airways are some of their clients. All is manufactured by CHO except the hydraulic system, steel and A/C units which are out-sourced.  Expansion here coming from EU and USA.  New fire trucks for Vietnam.   Specialized highway construction equipment (60 to 80 tons)..  Also specialized bullet proof cars (competitively priced at only 2.5 mill. Baht, Toyota Fortuna), Malaysia ordered 300 of these, delivered already 12 this year. This is a new product. And various other special design products. All making up to around 40% or total revenues.  Total costs are 70% raw material, 10% labor, with rest electric & various. Cost of raw material is presently dropping. I can see over 500 of revenues here for next year.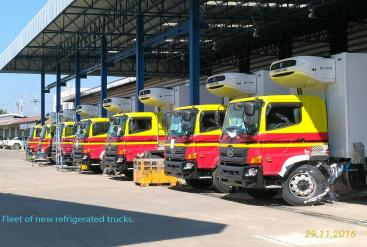 3)   Manage and Maintenance service income, project mgt. services. Example for Thai Navy, offshore patrol vessel service agreement is a 10 mill. Baht a year.  Bangkok Boat Port.  KhonKaen NGV bus systems circulating around the 1,200 Rai University (21 serviced and operated by CHO, and running successfully already over a year.  There lots of request for this from other Universities around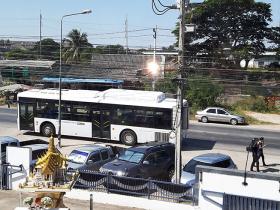 Thailand.  Plus, NGV KhonKaen city buses (see picture on left here, of one of their regular busses passing by, just as we were sitting in the MD's office talking about this), these representing 40% of all local KhonKaen city buses run & operated and serviced by CHO.  
New smart bus stops (all solar & battery, no need of an electric hook up, as have back up batter built in) "smart" as these will show how many minutes to next bus arriving and are totally self sustaining (see picture on right just below).   
  BAE systems 400 million Baht over next 2 years.  BAE systems is the world second biggest manufacturer of products for the country's defense, from United Kingdom (at the present, the company has passed the due diligence from BAE systems, and under the negotiation about the details of business alliance). 
6 existing operating service centers generating 100 mill in revenue (grown fast from just 5 mill. 4 years ago).  In addition, now 8 newly coming "24 hour refrigerated cooling truck service stations"  located around the country all 8 opening by year-end 2018.  First one commencing on January 12th 2017, with 2 more planed next year.  This is a new exciting high-tech franchise where any refrigerated truck in Thailand can get serviced, 24-hours-7days a week, and the truck operator can see the service done on their vehicle through full live circuit TV, shown on their own mobile phones.  These cost 40 mill. Baht per center with a payback period of less than 7 years…expected to be highly successful with good profit margins as it will much reduce down-time of the expensive to run refrigerated trucks, the driver's time -besides help eliminate spoilage of its contents often a problem in hot Thailand!  Technicians at these new centers will be trained by an already existing mini-school operated at CHO headquarters.  CHO is also renovating old train wagons for Thailand's rail system.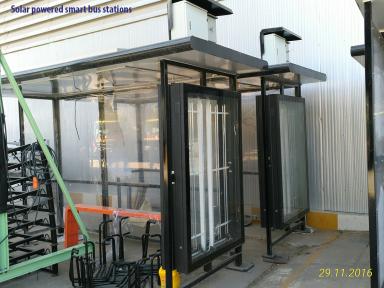 CHO has also been developing/investing in a proprietary Robot for its own internal use for specialized steel welding. By next year it plans to sell these to some specialized factories around the country.   These are complete with now only the software being tested/finalized.  I can see revenues approaching 200 to 300 mill. from all this #3, in year 2017. (Sorry no pictures).
Financing for above described expansions are coming from an already issued private debenture placement, maturing in 3 years at 4.96% annual interest which is some 1/3 lower then bank MLR borrowing rates and prevents doing any capital increase. The company is confident and already has board approval besides debenture investors ok to issue another tranche for the same amount if/as when needed. CHO d/e ratio is currently shown at 1.7.
The company's stated goal is to have all three above key businesses segments bring in equal amount of revenues within a period of say 3 years.  The last one, 3, being the regular recurring business so to smooth out the first 2 which produced an uneven revenue stream.  CHO currently has 704 mill. Baht in backlog and employs some 660 workers, up from just 400 as of end of 2013. (Page 37 of '15 its AR).
Investment in new land already in place and paid for:
Early last year CHO invested in a 272 Rai land plot next to the main highway paying a total of 300 mill. Baht, but now valued at 2.5 mill. Baht per rai, or worth some 750 mill. Baht.  In fact, a buyer is presently very interested in purchasing 70 Rai of this 272, which if would bring CHO about a 100 mill. Baht, one time gain.  If this happens before year-end it would more than guarantee CHO to show a solid/nice profit for all of 2016.  For the first 9 months so far in '16 CHO lost 41 mill. Baht.  In any event, the 4th Q. company operating picture will see a nice turnaround I was told so to all but wipe out this loss. 

I think as more investors/traders/brokers etc catch-on that CHO is past its 2016 transition/lowest nadir point and will show a 4th Q. turnaround, its stock price will start to move-up.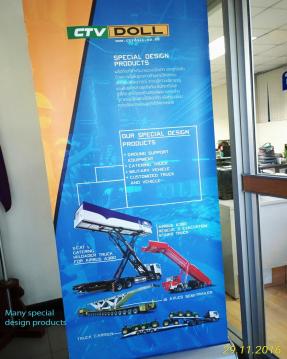 KhonKaen Think Tank Group. KKTT KhonKaen light electric tram project.  "The leading hub of ASEAN."   
The reasons for this land purchase (200 Rai are needed which is a large plot as the company is currently operating on 53 Rai, where 1 Rai of land equals 1600 sqmeters), is to start production on perhaps the most exciting new undertaking coming for CHO within 1-2 years. I mentioned this here last, but not least (!) and it has been on the drawing board for some time: 
The KKTT KhonKaen light electric tram project is now in advanced planning stage which CHO being a significant builder (of its trains). The KKTT KhonKaen light electric tram project will become a key transportation system for this city.  First stage is 26 KM with some 18 stations along the way, called "The North South line of the light electric rail system.".  And I am assured its happening by management and searching the Internet with competant Thai reading staff!
"Prime Minister approves the construction of electric train project Congratulations to Suradet Taweesaengkunthai, Associate Dean for Management College of Local Administration KKU for approval by the prime minister of proposed project."
For a very comprehensive English version and understanding I urge all members to look at this link:  https://vimeo.com/164375846   Note how big the city roads are in KhonKaen, as I have, when visiting this city for 2 days.  There are no problematic city land acquisition issues....this city is one of the key AEC hubs of the future. "The leading hub of ASEAN."  By mid next year AirAsia plans direct nonstop Phuket KhonKaen flights and I plan to be back there soon, for CHO updates.  
KKTT KhonKaen light electric tram project will feature park-and-ride facilities, allowing people to park their cars safely and ride in A/C, WiFi equipped trains, fast, safe, clean and conveniently through the heart of this city.  Some 40,000 people work and study at the major KhonKaen University hence the train will be a huge asset.  Its planned to list this train system as an infrastructure fund on the SET, just 2 years post its operating in full planned in 2018.
You can all further search this on the internet as it comes up in a big way, here is just one other link, to a YouTube presentation. https://www.youtube.com/watch?v=GgoYandkHBI   , or as example see here,  https://www.kku.ac.th/news/v.php?q=0011973&l=en
Many are in Thai language only as it's a Thai transportation system in the making for Thai people, in the city Khon Kaen.  This is a 10 billion Baht investment  and set to start in the second half of 2017. It has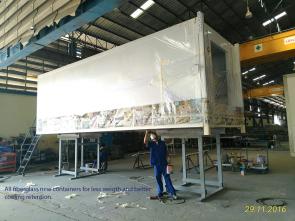 very strong government and city determination and approval and in the finalizing stage awaiting only the . KKTT KhonKaen light electric tram project environmental impact statement expected by 2Q '17.  Once in the making and expected very successful it will expand to other major provinces, notably Phuket which desperately needs this and where CHO already has inroads.  CHO's CEO which speaks fluently English, Japanese and Chinese, is no less the Chairman in KhonKaen Think Tank Group.  https://th-th.facebook.com/kktt.khonkaen/ 
 Pictures shown just here are more of the factory tour.  On the left is a fiber glass container, 1/3 of the weight of traditional ones.  On the right (light green) is a specialized medical truck order for Airlines ground passenger medical emergency.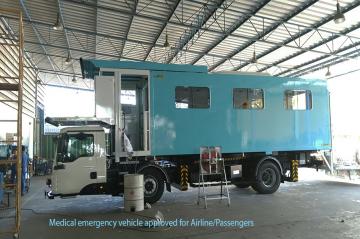 The company just gave a SET Opportunity Day presentation to investors on November 23 2016, as it has regularly done since listing in 2013.  You can see this at the below shown link, realize again its in the Thai language. However the slides on the right hand side give you some pictures which show many of their "products".   http://www.dcs-digital.com/setweb/odm/NDA0Nw==/#
While rapping-up the visit the company told us that it's far from giving up the NGV bus project in Bangkok, where its planning to acquire separate companies' there which have the concession to run separate bus routes -beyond the main ones.  It believes this is another way/door for CHO to get into the capitals' NGV bus transportation system and in time still be a contender; as CHO is convinced its extremely competitive in this segment.  The President and CEO K. Suradech T. owns 40% of the outstanding shares and the top 11 shareholders, own a combinded 60.3%.  Earlier this year, the CEO has purchased 840,000 more shares through the reported insider transaction:
SURADECH  TAWEESAENGSAKULTHAI Reporter Common share 18/03/2016 16/03/2016  840,000 shares price 1.76  Buy. 
All in all we so can see 2 clear likely ways forward with this high quality growth company: 1)its key setback this and last year were unfortunate besides unfair and it learned much from it, while not being soured.  2) it now has a clear vision going forward with a solid backlog besides 3 diversified business groups all of which promise visible& convincing to reach near record revenue next year, or say solid 10-15% revenue growth over last year's (2015) 1.16 mill. revenues. This along with much improved profit margins as compared to the recent past.  The short term catalyst for the stock price is the nicely recovering 4th quarter, (the potential gain on the land sale), the new super 24/7 day service centers expected to be highly succesfull -and by mid year 2016, the mega KKTT KhonKaen light electric tram project launching.
Trading presently at 1.65 my view is to rate the stock with a stronger buy view below 1.75,  but realize more prudent investors/members, may want to accumulate-buy for now until year end and/or early into 2017.  Comments as always welcome.
Best Regards,
Paul A. Renaud.
www.thaistocks.com