12 year historical data on AJ (6.60)


12 year historical data on AJ (6.60)
We have at hand historical data on all SET stocks, going back to 1989!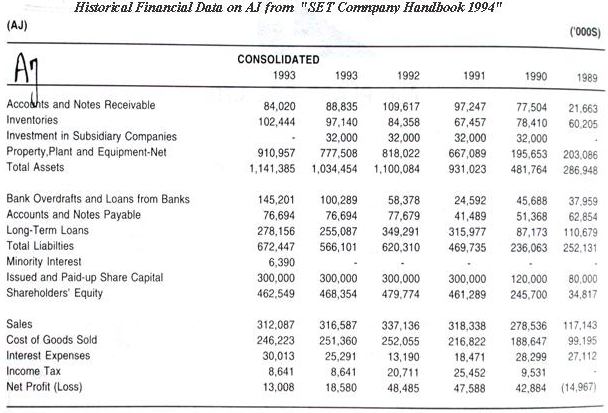 Here I share some important historical numbers and facts, all on AJ Plastics (6.65), one of my current continued favorite growth and income yielding selections for year 2003.

This data comes from the: "SET Companies" Handbook 1994". As published then by the Stock Exchange of Thailand. Also from "The MFC Investment Handbook, Thailand", dated 1996.
The below company descripton comes from this "MFC Investment Handbook, Thailand", 1996, booklet. Note how exports used to be 50% of sales but now are only 30%.
"AJ Plast Public Co. Ltd is a manufacturer and distributor of bi-axially oriented polyproplylene film (BOPP) for food packaging, cigaretter overwrapping and adheisve tape.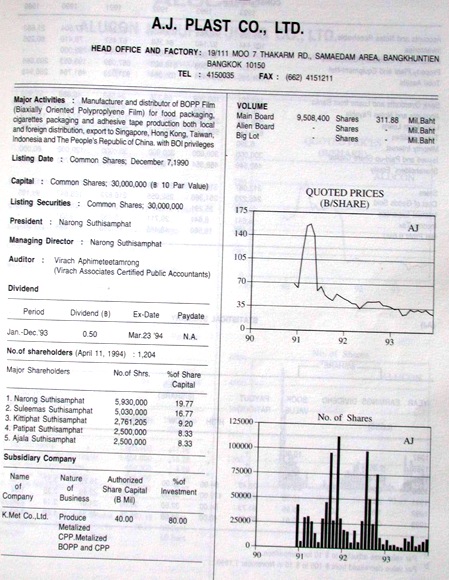 It is the local market leader with a 43% market share. 50% of output is exported through Sumitomo Corp.
"Its overseas markets are Singapore, Hong Kong, Taiwan Vietnam and USA. The company has an 80% owned subsidiary named K Met Co. Ltd, a manufacturer of CPP film, metalized CPP and metalized OPP film.
"The major raw material polypopylene resin, is important from Japan, Singapore, Canada, Beluium, France, and Germany.
"The company has two factories; one located in the Bang Phli Industrial Estate, Samut Prakan, its other new facgtory located in Laem Chabang Industrial Estated under a 30 year lease on over 74 rai of land (expiring 2021). The production capcaity is 16,000 Tons per year.
"AJ integrated into a CPP film manufacturer by investing 80% in an equity state of K Met Co. Ltd. AJ has recently been granted BOI promotional privileges to produce plastic products including drinking water bottles and invested 96 -98% in a drinking water company."
Note how the AJ p/e ratio used to be allot higher. Even while back then the prime interest rate in Thailand was more then double the current rate.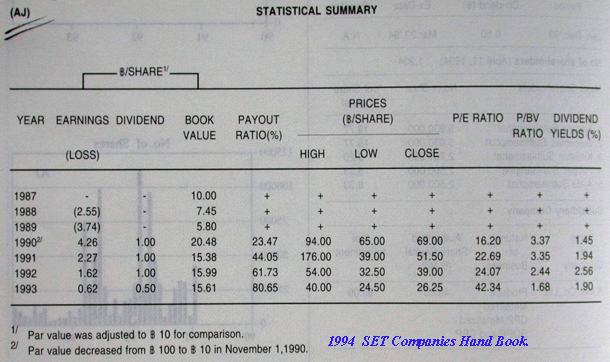 Note also how the annual dividend yield on AJ shares is allot lower back then; this evenwhile in those days Thai Bank deposit interest rates where 5-7 higher then the current deposit rates now are. Bank deposit rates are now around 1.2 to 1.5%, vs. well over 11-13% back then during the early and mid 1990's.
This in fact is one way to see how much less valued, smaller Thai stocks have become here. Even while their stock prices have performed great lately. And their earnings prospects are better now then in a long time -and with much less debt.
---
Very Best Regards to all our valued members,
Paul A. Renaud.